New Video Posted
Faustina & The Divine Mercy Deception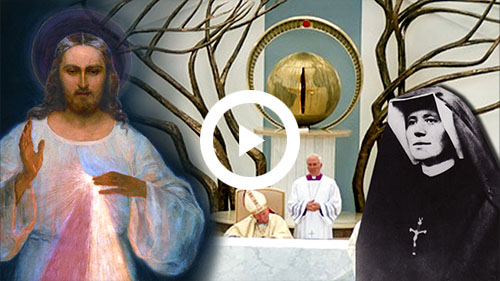 How many had stopped
Faustina & The Divine Mercy Deception

Dear MHFM

Thank you so much Brother Michael for your excellent video exposing the massive spiritual deception of the Divine Mercy devotion.  It was a long time needed and very welcome as this devotion has spread throughout the Vatican II Counter Church and even some false Traditionalist groups. I learnt from this video some very disturbing facts about Sister Faustina and this evil Devotion she has received from the Devil.  I had noticed how many practitioners of this Devotion I knew had stopped saying the Holy Rosary and were saying this Devotion, and how it seemed to promote the idea of universal salvation and almost suggest an amnesty for unrepentant sinners who nonetheless said those "prayers". Brother Michael did an excellent job in providing crucial detail from Sister Faustina's insufferably self indulgent Diary, which exposes how self obsessed and lacking in humility this Sister Faustina was… Which brings me to the most disturbing aspect of this, which it appears there is no mention of Mary. Instead Our Lord is quoted by her as saying that she is the most important saint, or such like, something which Our Lord would never say and which completely ignores Our Lady who alone among all creatures was granted the unique privilege of being born without Original Sin and is the greatest of the Saints and who would hold the greatest of affection with Our Lord. I got the impression from some of the quotations from her diabolical Diary that she rather considered herself a replacement for Our Lady in her importance. This Devotion was clearly intended to undo and undermine the potency of a wider practise among Catholics of the Holy Rosary, by providing an alternative and pretending that it was a more effective remedy for sinners and to obtain salvation, both of which are false promises and lies straight from Satan. It is now time for the Divine Mercy Devotion to be called out for what it is, a false devotion inspired by Satan and brought to us by a self obsessed and narcissistic nun. The Holy Rosary and Devotion to the Sacred Heart of Jesus need to be firmly placed back in their rightful place, and the Divine Mercy deception exposed and dumped as heretical and theological trash that actually can lead souls to Hell.

Yours In Christ

Gerard 
Helped
… I have watched some of your videos, and you have helped me to know what to do to receive salvation…

Thank you...
Thomas
Exposé
Faustina & The Divine Mercy Deception

Great exposé of Faustina Kowalska.

God bless MHFM.

V. from Croatia
A Substitute
Faustina & The Divine Mercy Deception
MHFM: The deception surrounding Faustina and 'Divine Mercy' is massive. It truly is the Devil's clever substitute for the Rosary, devotion to the Sacred Heart of Jesus, and the uniqueness of Easter Sunday.
Information
Faustina & The Divine Mercy Deception

Thank you Brothers for this critical video so necessary for these times!... fantastic information…

God bless you from Ireland.
Mary Wrenne
Sign up for our free e-mail list to see future vaticancatholic.com videos and articles.