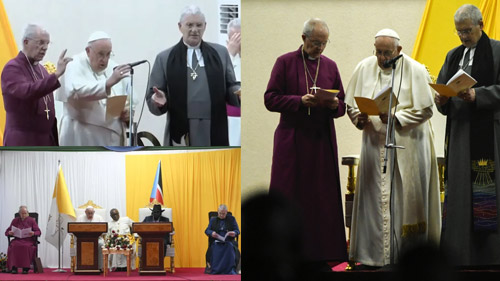 MHFM: On Feb. 4, 2023, Antipope Francis participated in an ecumenical prayer service in South Sudan. The prayer service included the Anglican "Archbishop" of Canterbury, Justin Welby, as well as the Moderator of the Protestant "Church of Scotland". As we've documented, the Vatican II antipopes do this regularly. It's a public mortal sin and an expression of heresy, as we covered in detail in this video: Vatican II Is A New Religion (Visual Proof)
Francis not only participated in the prayer service, but (as he so often does) he endorsed non-Catholic worship and prayer with his words. For example, in the context of the joint prayer service, he stated: "Prayer gives us the strength to go forward, to overcome our fears, to glimpse, even in the darkness, the salvation that God is even now preparing" (Vatican News, "Pope at Ecumenical Prayer in South Sudan: Those who unleash war betray God," Feb. 4, 2023). That is to endorse non-Catholic worship, and it's a manifestation of heresy. Besides all of his other heresies, Francis' repeated participation in non-Catholic worship by itself proves that he's not the pope.
The Opposite Of The Bible
Martin Luther vs. St. Paul in Romans 6

Protestants in many ways teach literally word-for-word the opposite of the Bible, so it's amazing how they've managed to delude themselves into thinking that their beliefs are biblical. They put so much emphasis on the authority of sacred scripture and many of them study it their entire lives but they fail to understand many of its basic and fundamental doctrines.

Inori
Comment
Incredible, thank you.

Mr. Grmn
Sign up for our free e-mail list to see future vaticancatholic.com videos and articles.