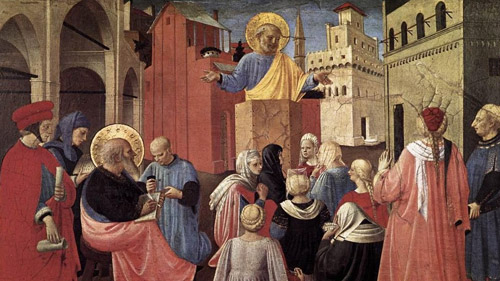 It's interesting to hear so many heretics raise objections to the true sedevacantist position based on 'visibility'. Those objections are false, and they have been refuted many times. But it's noteworthy that the first and most essential aspect of what makes the Church visible is that it's a body and it has 'members'. Just like the members of a human body (e.g. a person's arms) are visible, the Church is visible because those in it are 'members' of the mystical body. As Leo XIII taught, the Church is visible precisely because it is a body.
Pope Leo XIII, Satis Cognitum (#3), June 29, 1896: "For this reason the Church is so often called in Holy Writ a body, and even the body of Christ – 'Now you are the body of Christ' (I Cor. xii., 27) – and precisely because it is a body is the Church visible…"
But you cannot become a member of the body of the Church (and thus you cannot become part of the visible Church) without having received the Sacrament of Baptism, as even those who deny the necessity of baptism typically admit.
Pope Boniface VIII, Unam Sanctam, Nov. 18, 1302: "… the one mystical body … And in this, 'one Lord, one faith, one baptism' (Eph. 4:5). Certainly Noe had one ark at the time of the flood, prefiguring one Church… outside which we read that all living things on the earth were destroyed… which body he called the 'Only one' namely, the Church, because of the unity of the spouse, the faith, the sacraments, and the charity of the Church."
Pope Eugene IV, The Council of Florence, "Exultate Deo," Nov. 22, 1439: "Holy baptism, which is the gateway to the spiritual life, holds the first place among all the sacraments; through it we are made members of Christ and of the body of the Church. And since death entered the universe through the first man, 'unless we are born again of water and the Spirit, we cannot,' as the Truth says, 'enter into the kingdom of heaven' [John 3:5]. The matter of this sacrament is real and natural water."
Well, almost every person who rejects the sedevacantist position based on 'visibility' simultaneously holds that people can be in the visible Church without becoming a member of the Church through the Sacrament of Baptism. They thus deny a fundamental aspect of Catholic teaching on visibility while making false arguments for the Counter Church based on visibility. It's another example of how their position and arguments are self-refuting and without merit. This playlist of important videos covers the Church's teaching on the necessity of baptism for salvation, and it refutes objections: https://www.youtube.com/playlist?list=PLGVSKByrYzssJHrA8L1PjrxWW-S15pnEQ
Sign up for our free e-mail list to see future vaticancatholic.com videos and articles.