Post-Trent Catechism By St. Peter Canisius Contradicts "Baptism Of Desire"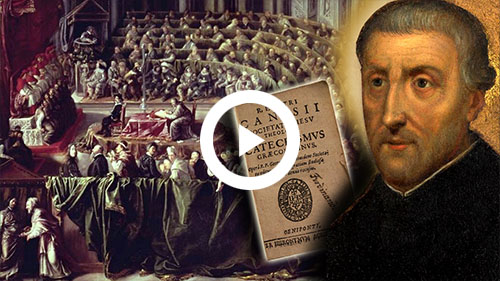 MHFM: Today is the feast of St. Peter Canisius, a doctor of the Church who attended the Council of Trent as a theologian. We have a very important video/article on St. Peter Canisius' catechism. His catechism was published after key sessions of the Council of Trent. This is a must-see video/article. https://endtimes.video/council-of-trent-catechism-st-peter-canisius/ This video/article is extremely significant because it constitutes further powerful support for our position on baptism and it debunks common arguments made by John 3:5 mockers. John 3:5 mockers typically misrepresent the Church's teaching and the Tradition on the salvation and baptism issues. St. Peter Canisius' catechism was the first major catechism in Church history, and it was approved by various popes. His catechism contradicts the idea of 'baptism of desire' by citing passages from early Church fathers which specifically taught that unbaptized catechumens (no matter how much progress they make) cannot be forgiven or saved without water baptism. In the same section on baptism, he specifically cites key passages of Trent, including the passage that John 3:5 mockers misunderstand (i.e. Sess. 6, Chap. 4), to teach that no adult is saved without baptism! His work was a providential defense and expression of the true faith. His catechism also contradicts the heresy that people who die ignorant of the faith or in false religions can be saved.
Sign up for our free e-mail list to see future vaticancatholic.com videos and articles.