MHFM: We've often pointed out that heretics frequently contradict themselves. The teaching of the Church is that when heretics teach heresies, but disguise those heresies in contradictions or ambiguity, the heretics must be held to their heretical meaning. St. Augustine gives us another example of this when discussing Pelagius, whose writings taught the heresy that infants can be saved without baptism. Yet, when Pelagius was in a certain setting (and under pressure) he condemned that idea with his words.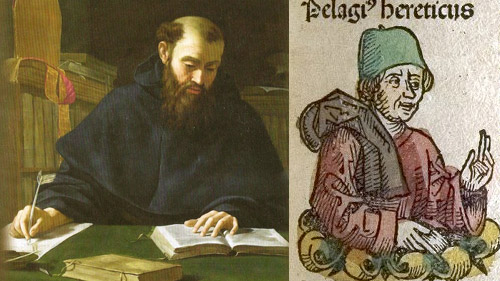 St. Augustine, Against Julian, Book 1, Chap. 5: "Pelagius, fearing to be condemned by them [i.e. Catholic judges], condemned those who think this [i.e. that 'infants even if they are not baptized have eternal life'], and he is certainly to be condemned with those whom he condemned, because he held in his heart what he denied with his mouth. For what is anathematized in his words is found in his writings."
Lebanon
My name is elias el hachem, i live in lebanon, i am Maronite Catholic. I watched your videos at endtimes.video and they are so much informative and open our eyes to the truth…!... I pray the rosary… best regards and may our Lord Jesus Christ bless you.
Sign up for our free e-mail list to see future vaticancatholic.com videos and articles.