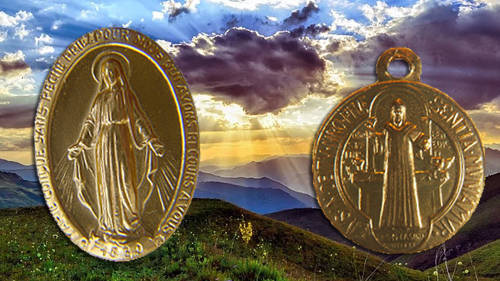 Brothers,

I found out one of my neighbors was selling drugs.  Cars would pull up near his house, he would then walk up to the cars and the exchange was made, then the cars would drive off.  I got so tired of it happening in my neighborhood that one night, I took a St. Benedict & a Miraculous Medal and buried them in the ground where the drug deals were being made. 

Next thing you know, the dealer would no longer meet the buyers at that location where the medals were buried.   He would then meet his clients at end of the road in our neighborhood.  So again one night, I snuck up there and put a small plastic statue of Our Lady in the weeds facing that area.  Not too long after that, there were no more drug deals being made and he actually ended up moving away recently after living there for about 15 years… Mary and St. Benedict are not going to put up with dope deals taking place near their sacramentals. 

I also have to mention that my mom and I about 15 years ago built an outdoor shrine in our yard, which was between our house and another neighbor's house, not too long after that, the police ended up doing a raid on that home and busted them for running a drug operation.  Thanks again Saints, for cleaning up my neighborhood

Steve
That's a very interesting story.  We think you utilized the sacramentals in an effective way.  We would add that if there were clear indications of drug deals or similar things, the police should have been contacted as well.
Sign up for our free e-mail list to see future vaticancatholic.com videos and articles.