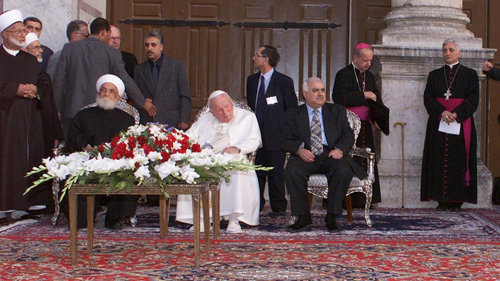 Some of our readers might recall that in 2001 John Paul II attended the Omayyad Mosque in Damascus, Syria. As part of this act of apostasy, John Paul II took off his shoes before entering the mosque. Well, the "Omayyad" caliphate (a line of Muslim rulers), after which that particular mosque he attended is named, was a line of Muslims rulers that was hugely involved in waging war on Catholic Spain in the 700-year war of Muslims vs. Christians in Spain.
"Abdurrahman the last survivor of the Omayyads had become the ruler of Muslim Spain about the time that Fruela became the ruler of Christian Spain; by 759 the two kings clashed in Galicia." (Warren H. Carroll, A History of Christendom, Vol. 2, p. 298.)
The fact that the mosque he attended was named after a group that is so representative of anti-Christianity just adds insult to his apostasy. The blood of all the faithful Catholics who died fighting the Omayyads for the very survival of Christian Spain cries out against him.
Apocalypse 17:6- "And I saw the woman drunk with the blood of the saints, and with the blood of the martyrs of Jesus. And I wondered when I had seen her…"
You can see pictures of John Paul II in the Omayyad Mosque here:
Sign up for our free e-mail list to see future vaticancatholic.com videos and articles.