Assisi And Active Participation
MHFM: In the following statement at the 1986 Assisi World Day Of Prayer For Peace, Antipope John Paul II repeatedly mentions that he invited the various religious leaders to come to Assisi in order to pray and worship.  To invite people to engage in idolatry (and to host the event) constitutes active participation in the idolatrous worship.  Thus, John Paul II was guilty of all the idolatry committed at Assisi.
John Paul II, Address To The Religious Leaders At Assisi, Oct. 27, 1986: "Let me begin by thanking you from the bottom of my heart, for the openness and good will with which you have accepted my invitation to pray at Assisi… The coming together of so many religious leaders to pray is in itself an invitation today to the world to become aware that there exists another dimension of peace and another way of promoting it which is not a result of negotiations, political compromises or economic bargainings.  It is the result of prayer, which, in the diversity of religions, expresses a relationship with a supreme power that surpasses our human capacities alone… I wish to express again my gratitude to you for having come to Assisi to pray… let us dispose our hearts for prayer in true internal silence.  Let us make this Day an anticipation of a peaceful world."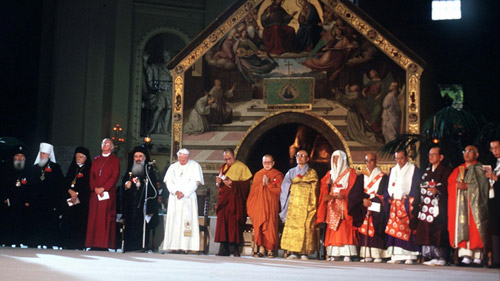 We discuss more about active participation in false worship here: Vatican II Is A New Religion (Visual Proof).  We discuss the apocalyptic significance of the Assisi event here: The Antichrist Conquers In This Sign.
Would Have Been An Atheist
No Latin Mass Or Prayers For Dead Non-Catholics – Papal Teaching

I would've still been a miserable and wretched atheist if it wasn't for your ministry. Thank you for introducing me to Our Lady and her Rosary…

Slick
Material
Incredible material Brothers! While I have not completed my first order of materials, reading what I have I truly desire more. I am a Traditional Catholic, I believe in Apostolic Catholicism, primitive Christianity, and I can see myself rejecting the teachings of Vatican II.

God Bless You for making these materials affordable.

Ave Maria!

Thomas
Sign up for our free e-mail list to see future vaticancatholic.com videos and articles.