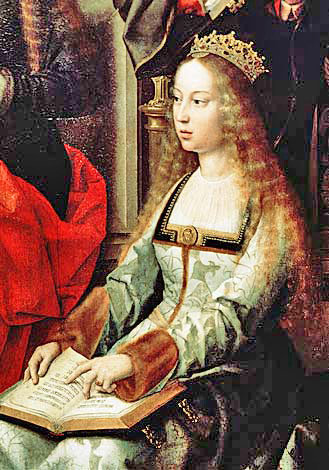 Isabel the Catholic Queen of Spain (15th century), prior to becoming Queen, had to fight for her crown with political schemers who tried to set up rivals to usurp her authority.  She also had to ward off many attempts by other political schemers to arrange marriages for her which she didn't want.  When such a marriage with an older hoodlum named Giron had been arranged, and there was no way out of it, Isabel prayed that either she or he would die.
"This time there was no way for Isabel to divide her enemies.  Even the Pope had decided against her.  Giron would arrive in less than a month.  He had proclaimed his intention to marry her immediately.  She was trapped…. Marriage to Pedro Giron, lecher and despoiler, as totally opposite to Isabel as any human being could be, was beyond bearing…. What does a Christian do in such a situation?  He – or she – prays.  And Isabel did pray, as she had prayed never before… 'Either let him die, or let me die… Either let him die, or let me die…' Giron was on the march.  By April 13, at the head of his mighty host, he had reached El Berrueco… North from El Berrueco rode Giron with his men, into the Sierra Morena, the Dark Mountains…. Across the plain, its grapevines spreading their leaves to the spring sun, until they came to its end at the Sierra de la Virgen, the Mountains of the Blessed Virgin Mary… And there they noticed that Pedro Giron, Master of Calatrava, was swaying in his saddle.  They helped him down from his horse.  Fever was flaring through his body.  His throat was burning and filling with alien matter.  He called for water, but he could not drink.  The next day he grew worse; the next, worse still.  Choking, strangling, cursing God with his last breath because He had not let him live to claim his virgin bride, on the third day Pedro Giron died.

      For Jesus Christ is the King of Kings, and the earth is the Lord's; and prayers to Him are heard.  As Isabel the Catholic had always known, and would never forget." (Isabel of Spain: The Catholic Queen, p. 31.)
Sign up for our free e-mail list to see future vaticancatholic.com videos and articles.