New Video Posted
"Bishop" Stowe And Francis Officially Endorse "LGBT" Activity!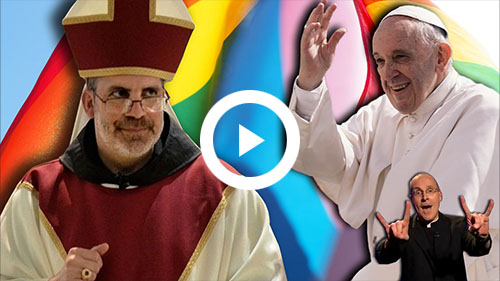 Deranged
"Bishop" Stowe And Francis Officially Endorse "LGBT" Activity!

… They are deranged by Satan's lies. In the name of love and tolerance they preach doctrines of demons.

Martina
"Health Departments"
Various state "health" departments are purchasing pornographic materials for children - 31 sec video

Parents must realize that this is a fact occurring in the govt educational system and take their children out - "yesterday"! Where there is a will, God will give a way. These evil [people] are losing their own souls and are quite determined to take many with them to Hell. "But he that shall scandalize one of these little ones that believe in me, it were better for him that a millstone should be hanged about his neck, and that he should be drowned in the depth of the sea." (Matthew 18:6)

Antonia
From getting
Doctors Explain Why "Covid-19" And The "Delta Variant" Don't Exist

I gotta hand it to MHFM...they saved me from getting the Vaxx and inspired me to learn more about how COVID is a hoax and the jab is a scam.

Eagle Scout
"My Diocese"
One must not go to the New Mass.  Also, it's crucial to recognize that he's not a legitimate bishop. He's a member of the Vatican II Sect.  The Vatican II Sect that Antipope Francis leads is NOT the Catholic Church.  It is the prophesied end-times Counter Church (the Whore of Babylon).  The current situation in Rome was predicted, as our material explains.  The true Catholic Church still exists.  People need to be traditional Catholics. Our material explains how to be a traditional Catholic.  We also recommend that Catholics, if they can, pray 15 decades of the Rosary each day and the Hail Mary frequently.
Comment
"Bishop" Stowe And Francis Officially Endorse "LGBT" Activity!

… these are end times for sure.

Rafael Torres
Sign up for our free e-mail list to see future vaticancatholic.com videos and articles.