Francis to Institute For Foreign Missions
Trent Horn & Michael Lofton Debunked On Francis & Proselytism
MHFM: It's also interesting that Francis' statement at 11:42 ("This is not seeking new members for this 'Catholic society', no") was made specifically to members of the Institute For Foreign Missions. Well, the very purpose of missions is of course to bring new people into the Catholic society. But the heretic Antipope Francis, in just one of his many rejections of true evangelization and trying to convince others of the faith (which he calls proselytism), says no.
New Video Posted
Trent Horn & Michael Lofton Debunked On Francis & Proselytism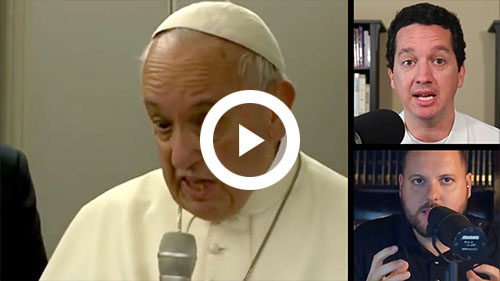 Refreshing
MSNBC hoped voters would parrot Jan 6 Deep State propaganda but it fails spectacularly - must-see video

Wow! That was incredibly refreshing to watch (and quite humorous to see the propagandist fail so hard). People are waking up!

Catholic Engineer
Sign up for our free e-mail list to see future vaticancatholic.com videos and articles.