FRANCIS BANS TRADITIONAL RITE 'CONFIRMATIONS', 'ORDINATIONS', AND FORCES CONCELEBRATION OF THE NOVUS ORDO 'MASS'
MHFM: As a further implementation of Antipope Francis' recent crackdown on the Latin Mass and traditional rites, his 'Congregation for Divine Worship and the Discipline of the Sacraments' issued new directives on Dec. 18, 2021. These new measures actually ban all 'confirmations' and 'ordinations' in the traditional rite and force 'priests' in the Vatican II Sect to concelebrate a Novus Ordo 'Mass'. This is sending further shockwaves across the false traditionalist groups that operate under the Vatican II Sect (a.k.a. the Whore of Babylon). However, this action is just another confirmation of what we've been saying about Antipope Francis and the Vatican II Sect (the prophesied end-times Counter Church). For our recent video on what all of this means and signifies, see this:
Francis Attacks The Latin Mass – The Big Picture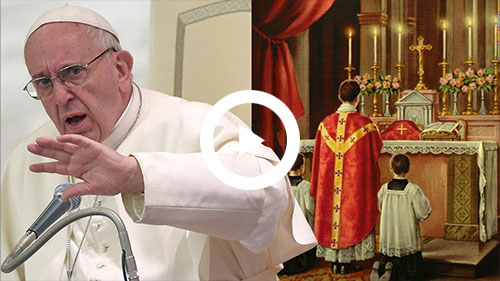 Sign up for our free e-mail list to see future vaticancatholic.com videos and articles.