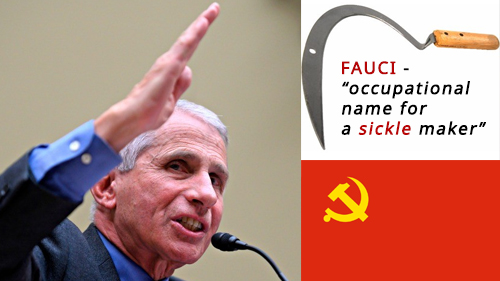 "FAUCI - Southern Italian: metonymic occupational name for a sickle maker or someone who used a sickle, from Sicilian fauci 'sickle'." (taken from: https://www.ancestry.com/name-origin?surname=fauci)
A "grim reaper" is depicted as carrying a sickle.  Fauci purports to be an expert on "pandemics" and "epidemics".   His advocacy of extended lockdowns and stay-at-home policies works against the U.S.A.  His policies have tremendously damaged the U.S. economy and health care system.  They have caused tremendous suffering.  They will also result in deaths (including perhaps suicides, homicides, etc.) connected to homelessness, stress, poverty, civil unrest, lack of proper hygiene and nutrition, and lack of proper medical care for certain things.
We don't believe it's just a coincidence that a key figure in the "coronavirus" taskforce, who has been instrumental in locking down this country, collapsing the economy, and turning it into a police state, bears a last name that means "sickle".
Fauci's policies hurt America and help Red Communist China.
Sign up for our free e-mail list to see future vaticancatholic.com videos and articles.