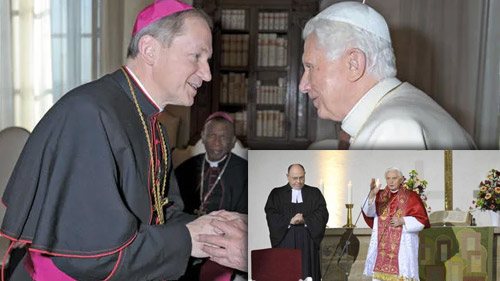 Certain conservative members of the Vatican II Sect are hailing "Bishop" Thomas Paprocki (of Springfield, Illinois) for stating that it's possible for bishops and others to excommunicate themselves automatically for heresy.  Paprocki implied that "Cardinal" McElroy might have fallen into automatic condemnation because of his endorsement of the "LGBT" agenda and related heresies.  Well, the truth is that while Paprocki might be mildly criticizing some of the most radical heretics in the Vatican II Counter Church on moral issues, he fully accepts false ecumenism and the heresies of the Vatican II Sect.  He thus denies the Catholic faith.  For example, in 2017 Paprocki was a presider during an ecumenical prayer service that included Lutherans and "Catholics" in St. Agnes Church in Springfield, Illinois.  The heretical gathering was based on, among other things, the heretical joint declaration with the Lutherans on justification.
"A landmark ecumenical document issued by Catholics and Lutherans in 2015 highlighted a string of agreements between the two churches while urging deeper connections at local levels.  Sunday's prayer service at St. Agnes Catholic Church in Springfield, bringing together the leaders from the Springfield Catholic Diocese and the Evangelical Church in America's Central/Southern Illinois Synod, on the heels of the commemoration of the 500th anniversary of the beginning of the Protestant Reformation, does just that.  '(The service) is a desire to recognize progress in Catholic-Lutheran relations,' said ELCA Bishop S. John Roth, who will join Catholic Bishop Thomas John Paprocki in leading the service… The style of Sunday's service will have a pronounced ecumenical feel to it, including prayer, hymns and music in the Taize tradition, which is meditative and reflective.  In the past, several local Catholic, Lutheran (ELCA), Presbyterian (USA) and United Methodist churches have held Taize services." (Steven Spearie, "Prayer service to bring together Catholics, Lutherans", The State Journal Register, Nov. 17, 2017)
Paprocki's endorsement of (and participation in) false ecumenism demonstrates once again that even the "most conservative" leaders in the Vatican II Sect are not Catholic.  Our video Vatican II Is A New Religion (Visual Proof) shows why joint prayer services with non-Catholics are mortally sinful and an expression of heresy.  They have always been condemned by the Catholic Church.  We also have a video that documents the astounding apostasy of McElroy: "Cardinal" McElroy & The Counter Church In San Diego.
Have Become Convinced
Dear Brothers…

I have watched all your videos multiple times, read through your books, and have prayed the rosary. Thanks to you, as well as God, I have become convinced of the sedevacantist position, including rejection of "BOD" and NFP… Thank you for all the work you do. 

Best, 
Tony 
Sign up for our free e-mail list to see future vaticancatholic.com videos and articles.