Brother Michael Dimond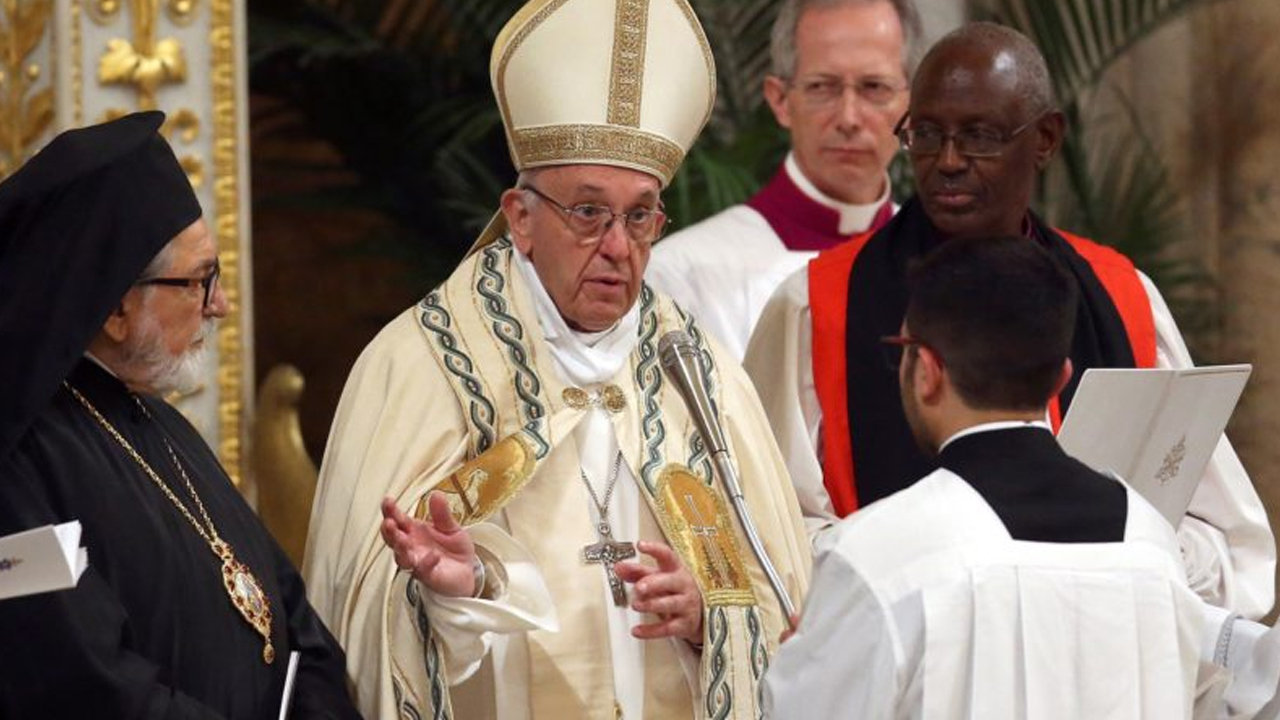 Francis' January 25, 2018 "homily" during "Ecumenical Vespers" to representatives and members of various "Christian Confessions":

"When we say that we recognize the Baptism of Christians of other traditions, we confess that they too have received the Lord's forgiveness and his grace which works within them. And we welcome their worship as an authentic expression of praise for what God achieves. Therefore we wish to pray together, joining our voices even more strongly… how many brothers and sisters today are subject to persecution in the name of Jesus! When their blood is spilled, even if they belong to other Confessions, they likewise become witnesses to faith, martyrs, united in the bond of baptismal grace… Brothers and sisters, with a heart filled with joy for having sung together here today a hymn of praise to the Father, through Christ our Savior and in the life-giving Spirit, I would like to address my warm greetings to you: to His Eminence Metropolitan Gennadios, Representative of the Ecumenical Patriarchate; to His Grace Bernard Ntahoturi, the Archbishop of Canterbury's personal Representative in Rome, and to all the representatives and members of the various Christian Confessions gathered here. I am pleased to greet the Ecumenical Delegation of Finland, whom I had the pleasure of meeting this morning. I also greet the students of the Ecumenical Institute of Bossey… Together we have given thanks to God for what he has achieved in our lives and in our communities… Our brother, the Lutheran Pastor in Rome, will take his leave after ten years, to assume another post in Hamburg; and I asked him to come and also to give us all his blessing."[1]
In his bull Unam Sanctam, Pope Boniface VIII declared that there is "no salvation nor remission of sin outside the Church."  When heretics are baptized, their heresy acts as an impediment to the remission of sins and to the grace of justification.  Only when such heretics convert to the Catholic Church, thereby removing the impediment of heresy, does the remission of sins occur.
Pope St. Gregory the Great, Quia charitati, June 22, 601: "From the ancient institution of the Fathers we have learned that those who are baptized in the name of the Trinity, although amid heresy, whenever they return to holy Church, may be recalled to the bosom of their mother the Church either with the anointing of chrism, or the imposition of hands, or with a profession of faith alone… because the holy baptism, which they received among the heretics, at that time restores the power of cleansing in them when they have been united to the holy faith and the heart of the universal Church."[2]
Francis also states that false non-Catholic worship is "authentic", and "therefore we wish to pray together, joining our voices even more strongly".  This is a public endorsement of false worship and mortal sin.  Francis also declares that non-Catholics who are killed for their beliefs "become witnesses to faith, martyrs".  This is completely heretical.
Pope Eugene IV, Council of Florence, "Cantate Domino", 1441, ex cathedra: "The Holy Roman Church firmly believes, professes and preaches that all those who are outside the Catholic Church, not only pagans but also Jews or heretics and schismatics, cannot share in eternal life and will go into the everlasting fire which was prepared for the devil and his angels, unless they are joined to the Church before the end of their lives; that the unity of this ecclesiastical body is of such importance that only for those who abide in it do the Church's sacraments contribute to salvation and do fasts, almsgiving and other works of piety and practices of the Christian militia produce eternal rewards; and that nobody can be saved, no matter how much he has given away in alms and even if he has shed blood in the name of Christ, unless he has persevered in the bosom and unity of the Catholic Church."

Pope Pelagius II, epistle (2) Dilectionis vestrae, 585: "Those who were not willing to be at agreement in the Church of God, cannot remain with God; although given over to flames and fires, they burn, or thrown to wild beasts, they lay down their lives, there will not be for them that crown of faith, but the punishment of faithlessness, not a glorious result (of religious virtue), but the ruin of despair.  Such a one can be slain; he cannot be crowned."[3]

Pope Eugene IV, Council of Florence, The Athanasian Creed, Sess. 8, Nov. 22, 1439: "Whoever wishes to be saved, needs above all to hold the Catholic faith; unless each one preserves this whole and inviolate, he will without a doubt perish in eternity."[iv]
Francis says that he and the other non-Catholic "Christian leaders" at this meeting "have given thanks to God for what he has achieved in our lives and in our communities".  In other words, the different "Churches" are all essentially the same to Francis.  To the heretic Francis, it makes absolutely no difference that the non-Catholic leaders promote heresies or a false gospel.  It makes no difference to him that, as a consequence of their heresies, numerous souls are led to Hell.  The apostate Francis ends by calling a Lutheran layman his "brother" and "pastor".  He also asks the Lutheran layman "to give us all his blessing".  Antipope Francis is a notorious heretic.
For more of Antipope Francis' horrible heresies from January 2018, click here: Antipope Francis' Notable Heresies and Apostasy from January 2018
Notes:
[1] L' Osservatore Romano, February 2, 2018, p. 6.
[2] Denzinger 249
[3] Denzinger 247
[4] Decrees of the Ecumenical Councils, Vol. 1, pp. 550-553; Denzinger 39-40.
Sign up for our free e-mail list to see future vaticancatholic.com videos and articles.