Brother Michael Dimond Francis' Recent Heresies
Francis' January 6, 2018 comments "after the angelus" - Francis "offered his best wishes to Eastern Catholic and Orthodox Churches celebrating Christmas":

"Dear brothers and sisters, several Catholic and Orthodox Oriental Churches are currently celebrating the Lord's Birth. I offer them my most cordial wishes: may this joyous celebration be the source of new spiritual vigor and communion among all of us Christians who recognize him as Lord and Savior. In a special way, I would like to express my closeness to Coptic Orthodox Christians, and to cordially greet my brother Tawadros II on the joyous occasion of the consecration of the new Cathedral in Cairo."[1]
Francis hopes for new strength and health for the heretical and schismatic "Orthodox" church and expresses his "closeness" to them.  Francis describes the "consecration" of the heretical new "Orthodox Cathedral" as a "joyous occasion".
Francis' January 8, 2018 address to members of the Diplomatic Corps accredited to "the Holy See":

"Among the human rights that I would also like to mention today is the right to freedom of thought, conscience and of religion, including the freedom to change religion. Sad to say, it is well-known that the right to religious freedom is often disregarded, and not infrequently religion becomes either an occasion for the ideological justification of new forms of extremism or a pretext for the social marginalization of believers..."[2]
Francis promotes the condemned heresies of "freedom of conscience and religion" and calls people embracing false religions "believers".
Pope Pius IX, Syllabus of Errors, # 78: "Hence in certain regions of Catholic name, it has been laudably sanctioned by law that men immigrating there be allowed to have public exercises of any form of worship of their own." – Condemned.[3]

Pope Pius IX, Quanta Cura (# 3), Dec. 8, 1864: "From which totally false idea of social government they do not fear to foster THAT ERRONEOUS OPINION, most fatal in its effects on the Catholic Church and the salvation of souls, called by Our predecessor, Gregory XVI, an insanity, NAMELY, THAT LIBERTY OF CONSCIENCE AND WORSHIP IS EACH MAN'S PERSONAL RIGHT, WHICH OUGHT TO BE LEGALLY PROCLAIMED AND ASSERTED IN EVERY RIGHTLY CONSTITUTED SOCIETY…"[4]

Francis' January 19, 2018 address to indigenous populations in the Coliseo Madre de Dios stadium during the first day of his visit to Peru:

"I wanted to begin my visit to Peru here. Thank you for being here and for helping us to see closer up, in your faces, the reflection of this land. It is a diverse face, one of infinite variety and enormous biological, cultural and spiritual richness. Those of us who do not live in these lands need your wisdom and knowledge… I consider it essential to begin creating institutional expressions of respect, recognition and dialogue with the native peoples, acknowledging and recovering their native cultures, languages, traditions, rights and spirituality... How important is what Yésica and Hector told us: 'We want our children to study, but we don't want the school to erase our traditions, our languages; we don't want to forget our ancestral wisdom!' Education helps us to build bridges and to create a culture of encounter. Schooling and education for the native peoples must be a priority and commitment of the state: an integrated and inculturated commitment that recognizes, respects and integrates their ancestral wisdom as a treasure belonging to the whole nation…"[5]
This was a meeting between Francis and the indigenous people who live near the Amazon River.  It included numerous men who were barely clothed and wearing face paint.  Francis praised the "richness" of their "spirituality".  Francis teaches that we should never forget their "ancestral wisdom".  Francis concluded by stating that the education system of the state can only be one that "recognizes, respects and integrates their ancestral wisdom as a treasure belonging to the whole nation".  He is an apostate.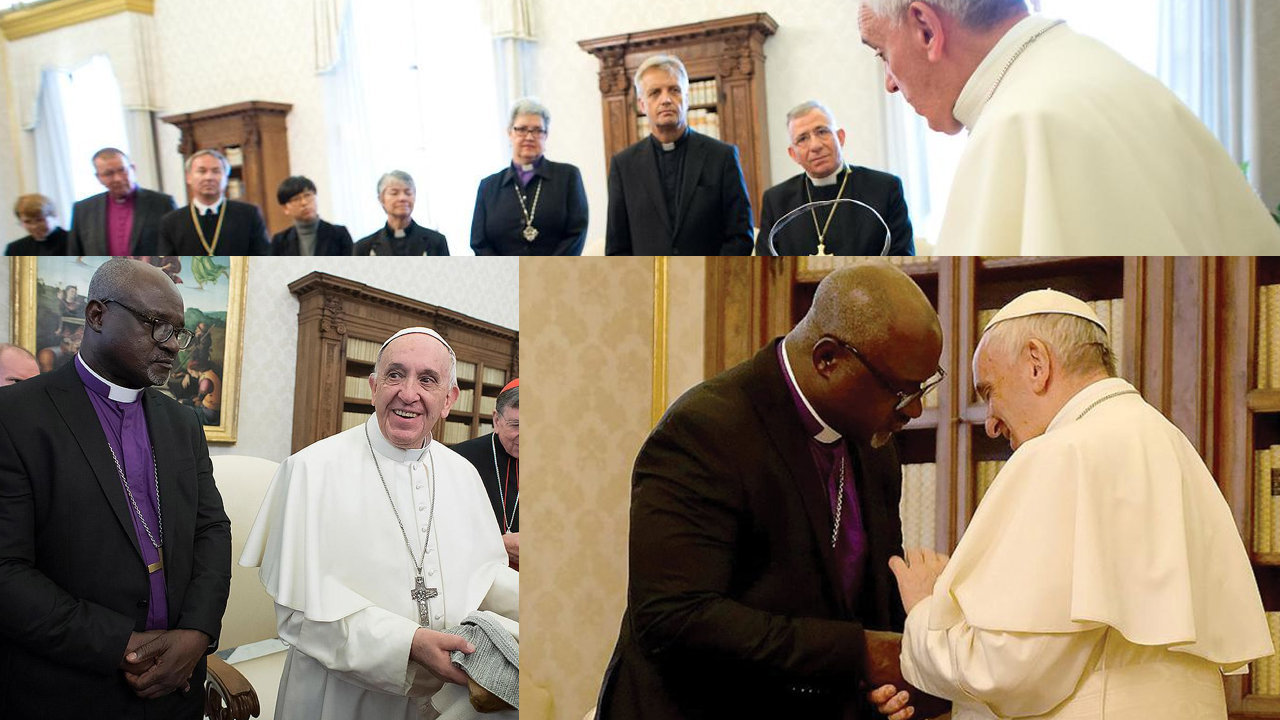 Francis' January 25, 2018 address to the Delegation of the "Evangelical Lutheran Church of Finland":

"I thank the Lutheran Bishop of Espoo for his kind greeting. As the Week of Prayer for Christian Unity draws to an end, we think back with joy on this past year's joint commemoration of the Reformation, which strengthened and deepened, in our Lord Jesus Christ, the communion between Lutherans and Catholics and their ecumenical partners throughout the world. This joint commemoration remains a fruitful opportunity for ecumenism, for it marked not a goal but rather a point of departure in the ecumenical quest for full and visible unity between Christians… An essential part of the joint commemoration of the Reformation worldwide has been the ecumenical aspect of our prayer and our meetings, no longer marked by the disputes and conflicts of the past. Our commemoration took place in a quite different spirit, for we understood the event of the Reformation as a summons to confront together Christianity's loss of credibility, and to renew and strengthen our common confession of the Triune God. The year just ended reminded us of a time when Christian unity was not yet sundered. Consequently, there was only one way for Lutherans and Catholics to commemorate 2017: in ecumenical communion… After the consensus reached between Lutherans and Catholics on fundamental questions regarding the doctrine of justification, the ecclesiological implications of that agreement must necessarily be part of the agenda of ecumenical dialogues… it has been possible to join in an ecumenical commemoration of the Reformation, not as a mere pragmatic gesture but with a deep sense of faith in Christ crucified and risen, a faith to which we can now testify together. By so doing, we are shouldering the great ecumenical responsibility to which last year's commemoration of the Reformation called us…"[6]
Francis says that he celebrated Martin Luther's "Reformation" last year.  Francis thus celebrated Martin Luther's revolution against the Catholic Church.  Catholics are not in communion with those outside the Church, but the heretic Francis says there is a real communion between Catholics and Lutherans.
Pope St. Leo the Great, Sermon 129: "Wherefore, since outside the Catholic Church there is nothing perfect, nothing undefiled… we are in no way likened with those who are divided from the unity of the Body of Christ; we are joined in no communion."

Pope Innocent III, Eius exemplo, Dec. 18, 1208: "By the heart we believe and by the mouth we confess the one Church, not of heretics, but the Holy Roman, Catholic, and Apostolic Church outside of which we believe that no one is saved."
The heretic Francis proceeds to assert that there's an ecumenical quest "for full and visible unity between Christians".  But unity only exists (and has always existed) in the true Catholic Church.  True Catholics seek to convert non-Catholics who claim to be Christians (but aren't) to the unity of the Catholic Church.
Pope Pius XI, Mortalium Animos (#10), Jan. 6, 1928: "… the union of Christians can only be promoted by promoting the return to the one true Church of Christ of those who are separated from it…"
Francis then says that our modern times are "no longer marked by the disputes and conflicts of the past".  This means that the post-Vatican II Counter Church has abandoned the Catholic Church's practice of attempting to convert non-Catholics and its teaching that non-Catholics must abandon their heresies.  Francis promotes the heresy that the Church is divided and that Christianity has suffered a "loss of credibility".  Francis says that Catholics now agree with Lutherans on justification and that there's "a faith to which we can now testify together".  What a heretic.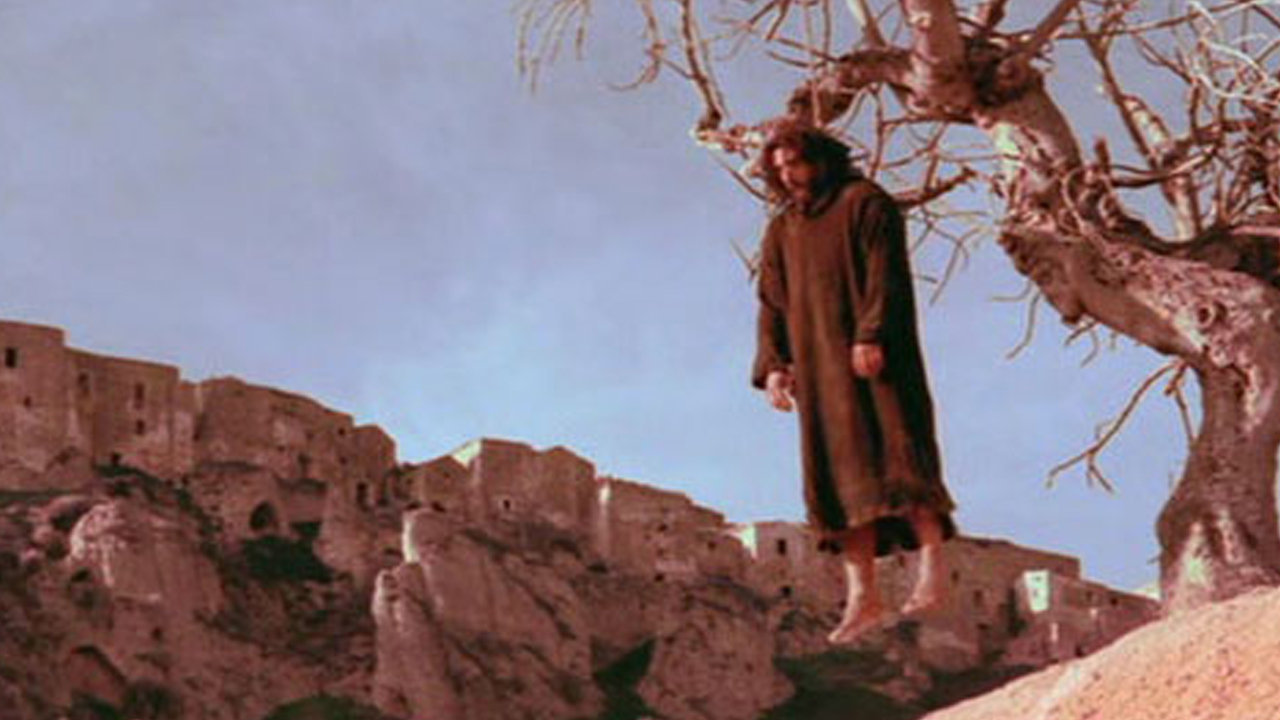 Francis' January 19, 2018 address at the airport in Lima, Peru:

Question: "Last year one of our friends who was left in an orphanage died. He died during Holy Week, on Holy Thursday. An Orthodox priest told us that he died a sinner and therefore he will not go to Paradise. I do not believe it is so."

Francis: "Perhaps that priest did not know what he was saying; perhaps that day that priest was not well... None of us can say that a person has not gone to heaven. I will tell you something that might surprise you: we cannot even say it about Judas."[7]
Francis learns that a priest told others that a sinner (presumably mortal) was not saved.  Francis tries to "reassure" the people that the priest is not correct.  Francis says: "Perhaps that priest did not know what he was saying; perhaps that day that priest was not well".  According to Francis, "we cannot even say it about Judas".  But Jesus Himself reveals that Judas was lost when He says about him: "… it were better for him, if that man had not been born." (Matthew 26:24)
St. Alphonsus, Preparation For Death, p. 127: "Poor Judas!  Above seventeen hundred years have elapsed since he has been in Hell, and his Hell is still only beginning."[8]

Francis' January 24, 2018 greeting to the representatives of the Yazidi community:

"Every person has the right to profess his or her own religious creed freely and without constraint. Your history, rich in spirituality and culture, has sadly been marked by unspeakable violations of fundamental rights of the human person… Your sanctuaries and places of worship have been destroyed."[9]
Francis is speaking to "the representatives of the Yazidi community".  Yazidism (the false religion they profess) "combines aspects of Zoroastrianism, Islam, Christianity and Judaism".[10]  Francis proclaims that the followers of this demonic religion should have the right to publicly profess their religion "without constraint".  As mentioned earlier, "the right" to profess false religions or promote false religious beliefs without constraint has been condemned repeatedly by popes.  A man who teaches the opposite, as Francis does, is not a true pope.  The apostate Antipope Francis also complains that the Yazidi "sanctuaries and places of worship have been destroyed".
St. Francis Xavier, 1545: "When all are baptized I order the temples of their false gods to be destroyed and all the idols to be broken in pieces. I can give you no idea of the joy I feel in seeing this done, witnessing the destruction of the idols by the people who lately adored them… When I have done all this in one place, I pass to another… In this way I go all around the country, bringing the natives into the fold of Jesus Christ, and the joy I feel in this is far too great to be expressed…"

St. Francis Xavier, Sept. 18, 1542: "I told him that God, most Faithful and True, held the misbelievers and their prayers in abomination, and so willed that their worship, which He rejected altogether, should come to naught."

St. Francis Xavier, Spring 1543: "One day I turned out of my road into a village of heathens… There was a woman with child, who had been three days in labor with so much difficulty, that many despaired of her life. Their prayers for her were not heard, for the prayer of the wicked is an abomination in the eyes of God, because the gods of the heathens are all devils [Psalm 95:5; 1 Cor. 10:20]."

Francis' January 24, 2018 letter "to the Grand Imam of Al-Azhar":

"This is the sole aspiration of those who profess themselves as authentic believers and who do not tire of imploring with prayer a future of fraternity for all. With these sentiments, I am glad to reiterate my cordial greeting, invoking from the Most High every blessing for your person and for the high responsibility you hold."[11]
Francis identifies the Islamic leader as an authentic believer and declares that he has a "high responsibility".  Islam, the false religion Francis promotes, has been condemned by true popes as "abominable" and "diabolical".
Pope Eugene IV, Council of Basel, 1434: "… there is hope that very many from the abominable sect of Mahomet will be converted to the Catholic faith."[12]

Pope Callixtus III: "I vow to… exalt the true Faith, and to extirpate the diabolical sect of the reprobate and faithless Mahomet [Islam] in the East."[13]

Francis' January 25, 2018 "homily" during "Ecumenical Vespers" to representatives and members of various "Christian Confessions":

"When we say that we recognize the Baptism of Christians of other traditions, we confess that they too have received the Lord's forgiveness and his grace which works within them. And we welcome their worship as an authentic expression of praise for what God achieves. Therefore we wish to pray together, joining our voices even more strongly… how many brothers and sisters today are subject to persecution in the name of Jesus! When their blood is spilled, even if they belong to other Confessions, they likewise become witnesses to faith, martyrs, united in the bond of baptismal grace… Brothers and sisters, with a heart filled with joy for having sung together here today a hymn of praise to the Father, through Christ our Savior and in the life-giving Spirit, I would like to address my warm greetings to you: to His Eminence Metropolitan Gennadios, Representative of the Ecumenical Patriarchate; to His Grace Bernard Ntahoturi, the Archbishop of Canterbury's personal Representative in Rome, and to all the representatives and members of the various Christian Confessions gathered here. I am pleased to greet the Ecumenical Delegation of Finland, whom I had the pleasure of meeting this morning. I also greet the students of the Ecumenical Institute of Bossey… Together we have given thanks to God for what he has achieved in our lives and in our communities… Our brother, the Lutheran Pastor in Rome, will take his leave after ten years, to assume another post in Hamburg; and I asked him to come and also to give us all his blessing."[14]
In his bull Unam Sanctam, Pope Boniface VIII declared that there is "no salvation nor remission of sin outside the Church."  When heretics are baptized, their heresy acts as an impediment to the remission of sins and to the grace of justification.  Only when such heretics convert to the Catholic Church, thereby removing the impediment of heresy, does the remission of sins occur.
Pope St. Gregory the Great, Quia charitati, June 22, 601: "From the ancient institution of the Fathers we have learned that those who are baptized in the name of the Trinity, although amid heresy, whenever they return to holy Church, may be recalled to the bosom of their mother the Church either with the anointing of chrism, or the imposition of hands, or with a profession of faith alone… because the holy baptism, which they received among the heretics, at that time restores the power of cleansing in them when they have been united to the holy faith and the heart of the universal Church."[15]
Francis also states that false non-Catholic worship is "authentic", and "therefore we wish to pray together, joining our voices even more strongly".  This is a public endorsement of false worship and mortal sin.  Francis also declares that non-Catholics who are killed for their beliefs "become witnesses to faith, martyrs".  This is completely heretical.
Pope Eugene IV, Council of Florence, "Cantate Domino", 1441, ex cathedra: "The Holy Roman Church firmly believes, professes and preaches that all those who are outside the Catholic Church, not only pagans but also Jews or heretics and schismatics, cannot share in eternal life and will go into the everlasting fire which was prepared for the devil and his angels, unless they are joined to the Church before the end of their lives; that the unity of this ecclesiastical body is of such importance that only for those who abide in it do the Church's sacraments contribute to salvation and do fasts, almsgiving and other works of piety and practices of the Christian militia produce eternal rewards; and that nobody can be saved, no matter how much he has given away in alms and even if he has shed blood in the name of Christ, unless he has persevered in the bosom and unity of the Catholic Church."

Pope Pelagius II, epistle (2) Dilectionis vestrae, 585: "Those who were not willing to be at agreement in the Church of God, cannot remain with God; although given over to flames and fires, they burn, or thrown to wild beasts, they lay down their lives, there will not be for them that crown of faith, but the punishment of faithlessness, not a glorious result (of religious virtue), but the ruin of despair. Such a one can be slain; he cannot be crowned."[16]

Pope Eugene IV, Council of Florence, The Athanasian Creed, Sess. 8, Nov. 22, 1439: "Whoever wishes to be saved, needs above all to hold the Catholic faith; unless each one preserves this whole and inviolate, he will without a doubt perish in eternity."[17]
Francis says that he and the other non-Catholic "Christian leaders" at this meeting "have given thanks to God for what he has achieved in our lives and in our communities".  In other words, the different "Churches" are all essentially the same to Francis.  To the heretic Francis, it makes absolutely no difference that the non-Catholic leaders promote heresies or a false gospel.  It makes no difference to him that, as a consequence of their heresies, numerous souls are led to Hell.  The apostate Francis ends by calling a Lutheran layman his "brother" and "pastor".  He also asks the Lutheran layman "to give us all his blessing".  Antipope Francis is a notorious heretic.
Notes:
[1] L' Osservatore Romano, January 12, 2018, p. 11.
[2] L' Osservatore Romano, January 12, 2018, p. 9.
[3] Denzinger 1778.
[4] Denzinger 1690.
[5] L' Osservatore Romano, January 26, 2018, pp. 7-8.
[6] L' Osservatore Romano, February 2, 2018, p. 8.
[7] L' Osservatore Romano, March 2, 2018, p. 4.
[8] Tan Books, abridged version
[9] L' Osservatore Romano, January 26, 2018, p. 1.
[10] https://en.wikipedia.org/wiki/Yazidis
[11] Daily Italian L'Osservatore Romano - January 19, 2018, Issue No. 14, page 7
[12] Decrees of the Ecumenical Councils, Sheed & Ward and Georgetown University Press, 1990, Vol. 1, p. 479.
[13] Von Pastor, History of the Popes, II, 346; quoted by Warren H. Carroll, A History of Christendom, Vol. 3 (The Glory of Christendom), Front Royal, VA: Christendom Press, p. 571.
[14] L' Osservatore Romano, Febuary 2, 2018, p. 6.
[15] Denzinger 249
[16] Denzinger 247
[17] Decrees of the Ecumenical Councils, Vol. 1, pp. 550-553; Denzinger 39-40.
Sign up for our free e-mail list to see future vaticancatholic.com videos and articles.