Brother Michael Dimond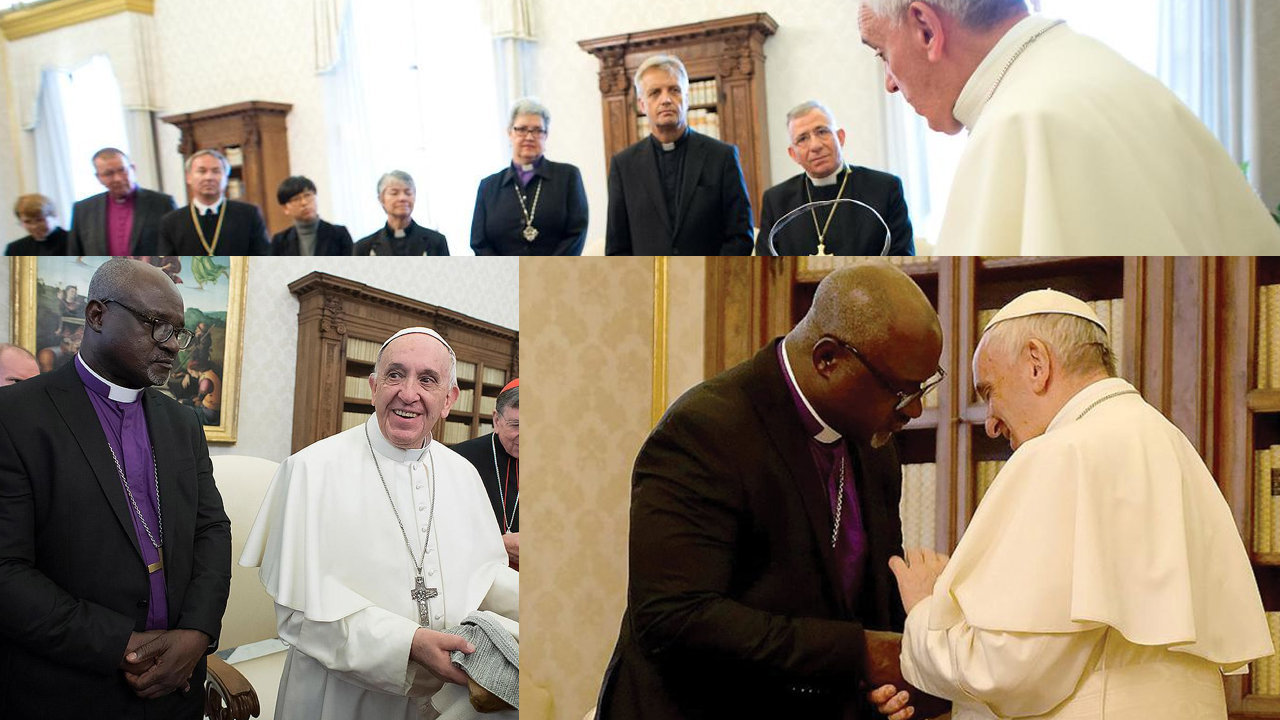 Francis' January 25, 2018 address to the Delegation of the "Evangelical Lutheran Church of Finland":

"I thank the Lutheran Bishop of Espoo for his kind greeting.  As the Week of Prayer for Christian Unity draws to an end, we think back with joy on this past year's joint commemoration of the Reformation, which strengthened and deepened, in our Lord Jesus Christ, the communion between Lutherans and Catholics and their ecumenical partners throughout the world.  This joint commemoration remains a fruitful opportunity for ecumenism, for it marked not a goal but rather a point of departure in the ecumenical quest for full and visible unity between Christians… An essential part of the joint commemoration of the Reformation worldwide has been the ecumenical aspect of our prayer and our meetings, no longer marked by the disputes and conflicts of the past.  Our commemoration took place in a quite different spirit, for we understood the event of the Reformation as a summons to confront together Christianity's loss of credibility, and to renew and strengthen our common confession of the Triune God.  The year just ended reminded us of a time when Christian unity was not yet sundered.  Consequently, there was only one way for Lutherans and Catholics to commemorate 2017: in ecumenical communion… After the consensus reached between Lutherans and Catholics on fundamental questions regarding the doctrine of justification, the ecclesiological implications of that agreement must necessarily be part of the agenda of ecumenical dialogues… it has been possible to join in an ecumenical commemoration of the Reformation, not as a mere pragmatic gesture but with a deep sense of faith in Christ crucified and risen, a faith to which we can now testify together.  By so doing, we are shouldering the great ecumenical responsibility to which last year's commemoration of the Reformation called us…"[1]
Francis says that he celebrated Martin Luther's "Reformation" last year.  Francis thus celebrated Martin Luther's revolution against the Catholic Church.  Catholics are not in communion with those outside the Church, but the heretic Francis says there is a real communion between Catholics and Lutherans.
Pope St. Leo the Great, Sermon 129: "Wherefore, since outside the Catholic Church there is nothing perfect, nothing undefiled… we are in no way likened with those who are divided from the unity of the Body of Christ; we are joined in no communion."

Pope Innocent III, Eius exemplo, Dec. 18, 1208: "By the heart we believe and by the mouth we confess the one Church, not of heretics, but the Holy Roman, Catholic, and Apostolic Church outside of which we believe that no one is saved."
The heretic Francis proceeds to assert that there's an ecumenical quest "for full and visible unity between Christians".  But unity only exists (and has always existed) in the true Catholic Church.  True Catholics seek to convert non-Catholics who claim to be Christians (but aren't) to the unity of the Catholic Church.
Pope Pius XI, Mortalium Animos (#10), Jan. 6, 1928: "… the union of Christians can only be promoted by promoting the return to the one true Church of Christ of those who are separated from it…"
Francis then says that our modern times are "no longer marked by the disputes and conflicts of the past".  This means that the post-Vatican II Counter Church has abandoned the Catholic Church's practice of attempting to convert non-Catholics and its teaching that non-Catholics must abandon their heresies.  Francis promotes the heresy that the Church is divided and that Christianity has suffered a "loss of credibility".  Francis says that Catholics now agree with Lutherans on justification and that now there's "a faith to which we can now testify together".  What a heretic.
For more of Antipope Francis' horrible heresies from January 2018, click here: Antipope Francis' Notable Heresies and Apostasy from January 2018
Notes:
[1] L' Osservatore Romano, February 2, 2018, p. 8.
Sign up for our free e-mail list to see future vaticancatholic.com videos and articles.