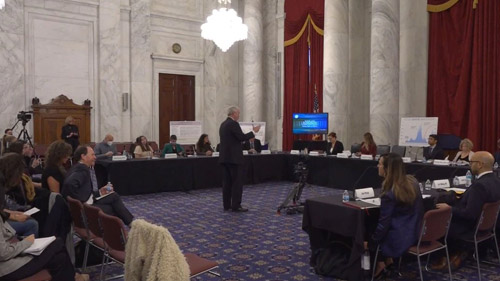 "YouTube has again suspended Sen. Ron Johnson's (R-Wis.) channel over a roundtable that featured people who say they were injured by COVID-19 vaccines and experts discussing the shots.
'For the 5th time this year, YouTube is censoring me from telling you the truth. This time they don't want you to hear 3.5 hours of stories from doctors, scientists, and the vaccine injured,' Johnson said in a statement.
A 34-minute portion from the roundtable, held on Nov. 2, is still available for viewing on YouTube. The full version is up on Rumble, a YouTube competitor.
The roundtable stretched for nearly four hours. It included multiple people who say they suffered severe side effects from COVID-19 vaccines, including Theresa Long, an Army lieutenant colonel, and several experts, including Dr. Peter Doshi, an associate professor of pharmaceutical health services research at the University of Maryland School of Pharmacy...
Johnson noted that there have been over 17,600 reports of post-COVID vaccination deaths submitted to the system, which is well above the number for every other type of vaccine combined.
'These vaccine injuries are real,' he said."
Sign up for our free e-mail list to see future vaticancatholic.com videos and articles.