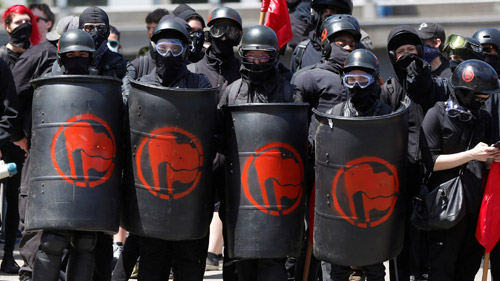 On October 1st, with little fanfare, Politico published an extraordinary opinion piece that may be the most important thing I've read all year. Titled "Americans Increasingly Believe Violence is Justified if the Other Side Wins," the essay was penned by three "senior fellows" at the Hoover Institution, New America, and the Hudson Institute, as well as a professor of "political communication" at Louisiana State University and a professor of government at the University of Maryland (that's five authors, in case you lost count).
The major takeaway is presented in the graph that appears below:
Way back in November of 2017 (my, how long ago that seems . . . ) a mere 8% of both Democrats and Republicans held that it is legitimate to use violence to advance their political goals. Actually, there's nothing "mere" about it. It ought to surprise us that such a sizeable percentage of both parties could hold such a radical view. Also surprising is Republicans running neck and neck with Democrats. Contrary to how they are perceived by Leftists, conservatives are slow to embrace the idea of violence, or any sort of punitive measures against their opponents. Their Achilles heel, in fact, is commitment to "fair play."
We must remember that when these numbers were compiled it had been a year since the 2016 election. A year of unhinged rhetoric by the Left, and repeated calls for Trump to be assassinated. Madonna spoke about her fantasies of blowing up the White House, and "comedian" Kathy Griffin held up an effigy of Trump's severed head. Of course, those were the unserious, tongue-in-cheek threats. Countless other people made similar threats, quite openly, and seemed to be pretty serious about it. To my knowledge, none of them was charged with a crime...
Almost a year later, in October 2018, the percentage of Democrats condoning violence had jumped to 13...
The other day I spoke with a friend who lives in New York. He told me that he recently drove to his local rifle range, which he has visited many times in the past. He had not been there for several months, however, and when he arrived he was shocked to find a line stretching out the door (made up entirely of white people) and what wound up being a 45 minute wait. When he finally got inside, he asked the proprietor about the large turnout and was told that it had been like this every weekend since the BLM riots began, and that the numbers were increasing. I hope all those folks brought their own ammo, because my friend also told me the store was completely sold out. And this was New York, not South Carolina... since May we have seen Left-wing violence the likes of which this country has not seen since the 1960s. And this phenomenon is fundamentally new because it has been condoned and encouraged by state and local officials, prominent Democrats in Congress, and establishment journalists and pundits. The authors of the CSIS study warn of the dangers posed by groups like the "boogaloos," a group of "Right-wing, anti-government extremists" bent on "creating a civil war in the United States." Oddly enough, I'd never heard of the boogaloos until reading this article, and I think I'm pretty "plugged in."
I know nothing about this group, but I do know one thing for certain: if the boogaloos, or any other "Right-wing extremists" took to the streets and behaved as BLM and Antifa have behaved – looting, burning, assaulting, threatening, or even just blocking traffic – they would have been crushed within twenty-four hours. All the might of state and local police forces and federal law enforcement would have been unleashed against them, and the cops would not have played nice. Many "Right-wingers" would have wound up dead or injured, and the survivors would have faced extensive criminal charges.
This, gentle reader, is why "Right-wing violence" is not the greater threat. Left-wing violence is taking place with the approval and support, financial and otherwise, of the establishment. It is a threat to all ordinary Americans, especially white Americans. Right-wing violence only poses a threat (so far, a very mild one) to the establishment...
This is, quite simply, a recipe for civil war – of some kind or other... Average folks may not want to think about it, but a second civil war is quite plausible.
Sign up for our free e-mail list to see future vaticancatholic.com videos and articles.