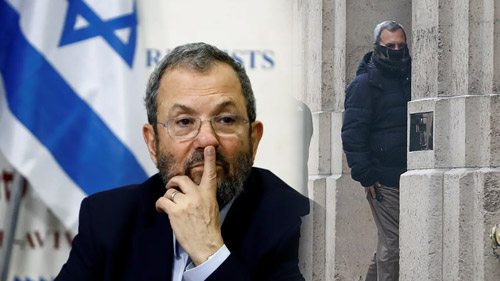 Former Israeli Prime Minister and head of Israeli Military Intelligence Ehud Barak visited Jeffrey Epstein's New York City apartment dozens of times between 2013 and 2017, documents obtained by the Wall Street Journal reveal.
"After Epstein was arrested in 2019, photos were published in newspapers showing Mr. Barak, the Israeli politician, entering Epstein's townhouse in 2016," WSJ reported.
"The documents provide new details about his scheduled meetings," WSJ continued. "They show that between 2013 and 2017, Epstein planned at least three dozen meetings with Mr. Barak. They had appointments every month for 11 consecutive months starting in December 2015, the documents show."
Mr. Barak told the Journal he was introduced to Epstein in 2003 by Shimon Peres, another former prime minister of Israel, at a social event with U.S. dignitaries, and that he would regularly visit Epstein when he traveled to New York. "Quite often, I came to the townhouse with my wife," Mr. Barak said. Mr. Peres died in 2016.
Mr. Barak also took flights on Epstein's private jet, the documents show. In January 2014, he met Epstein at his Palm Beach mansion and then they flew together to Tampa, where Epstein dropped him off and continued on to New York.
"I flew only twice on his airplane, together with my wife and Israeli security detail," Mr. Barak said. He said he remembers the trip in Florida was to visit a U.S. military installation in Tampa.
"I never participated in any party or any other improper event around [Epstein], and never met him with girls or minors, or even adult women in improper context or behavior," Mr. Barak said.
Barak was photographed "hiding his face" while entering Epstein's New York City townhouse in 2016...
Billionaire LinkedIn co-founder Reid Hoffman, who was caught staging a false flag operation with fake Russian bots to influence the Alabama Senate election in 2017, visited Jeffrey Epstein's "Pedophile Island," Epstein's records show.
Hoffman has been using his wealth to pour money into electing pro-Israel Democrats, fund the E. Jean Carroll's rape lawsuit against Donald Trump and work with George Soros to censor the internet.
Sign up for our free e-mail list to see future vaticancatholic.com videos and articles.