breitbart.com
March 23, 2020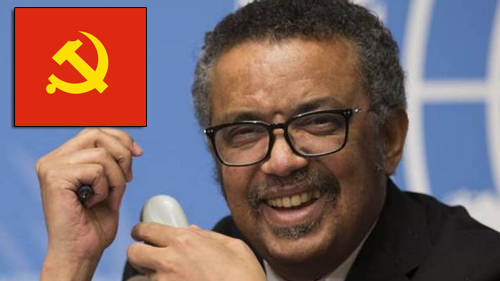 The World Health Organization (WHO) echoed Beijing's response to the novel coronavirus in line with Chinese propagandists...
WHO Twitter messages from January and February show that the United Nations body was spreading Chinese propaganda. Health officials detected the first case of the coronavirus (COVID-19) on November 17 in Wuhan, China...
The ruling communist party, however, has hailed the recent slowdown of the outbreak as a sign of the superiority of its authoritarian political system...
Echoing false Chinese communist party statements, the WHO tweeted on February 21 that Dr. Tedros had claimed that China's handling of the coronavirus gave the rest of the world "a fighting chance of containing the spread of the coronavirus."
Although coronavirus spread from China to the rest of the world, the WHO suggested earlier this year that Beijing contained the disease...
At a January 28 meeting with Chinese dictator Xi Jinping, the WHO director reportedly offered effusive praise for Beijing's transparency and management of the coronavirus outbreak in late January, even though China initially tried to hide the epidemic from its public and the rest of the globe as the disease spread.
Dr. Tedros also blasted other governments, like the United States, that tried to prevent the outbreak from spreading even further beyond China's borders by suspending travel to and from the country...
The WHO director served as health minister in Ethiopia, which has a Marxist past. China is currently the largest foreign investor in the African country.
Communist China is now the second-biggest donor to the United Nation's regular budget after the United States. As such, Beijing holds considerable sway over the WHO, a U.N. entity.
Perhaps one of the most glaring examples of the influence Beijing holds over the WHO is its success in blocking Taiwan's access to the body...
Although China does not control Taiwan, it claims the island as part of its territory.
Sign up for our free e-mail list to see future vaticancatholic.com videos and articles.