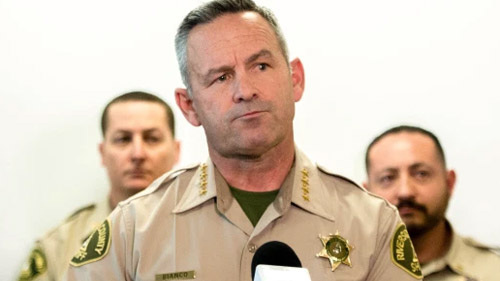 "A West Coast sheriff in Riverside County, Calif. refuses to enforce state or federal vaccine mandates on employees of his department, citing the government having 'no authority to mandate your health choices.'
'Over the past couple of weeks, the idea of forced vaccination has caused much concern across the entire country,' Riverside County Sheriff Chad Bianco said in a statement released Monday. 'I will not enforce the vaccine mandate on Sheriff's Department employees.'
'The government has no ability and no authority to mandate your health choices,' he said. 'As your sheriff, I have an obligation to guard your liberty and freedom.'...
In 2020 Bianco refused to enforce Gov. Gavin Newsom's coronavirus lockdown orders restricting people to their homes.
'These closures and stay-at-home orders are flat-out ridiculous,' Bianco said at the time.
'The Riverside County Sheriff's Department will not be blackmailed, bullied or used as muscle against Riverside County residents in the enforcement of the governor's order,' he added.
On Saturday six members of the Los Angeles Police Department filed a federal lawsuit challenging the requirement that all city workers get immunized against COVID-19, Law Officer reported.
The lawsuit was filed in U.S. District Court in Los Angeles. It 'claims the mandate violates the employees' constitutional rights to privacy and due process and asks the court to provide immediate and permanent relief from the requirement.'"
Sign up for our free e-mail list to see future vaticancatholic.com videos and articles.