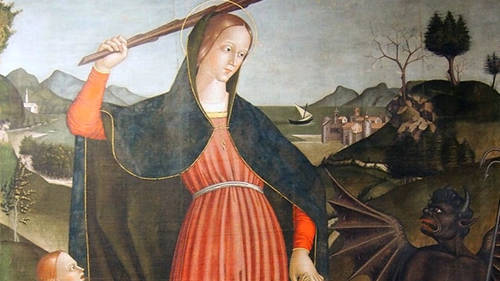 Hello MHFM,
In several encyclicals, the popes have referred to the Blessed Virgin as the Destroyer of all heresies (Pius X in Pascendi), Victorious over all heresies (Pius XI in Mortalium Animos), Vanquisher of all heresies (Leo XIII, Octobri Mense). It seems that this title is also repeated by St. Alphonsus (The Glories of Mary, p. 478).
After some research, it appears as this interesting title is found, the earliest, in the Antiphonary of Charles the Bald (Antiphonaire de Compiègne), dated around 877 AD... This book of songs mentions:
"Gaude Maria virgo cunctas haereses sola interemisti quae Gabrielis archangeli dictis credidisti. Dum, virgo, Deum et hominem genuisti et post partum virgo inviolata permansisti."

"Rejoice Virgin Mary, for you alone have destroyed all heresies; you that believed in the words of the archangel Gabriel, bore God and man while a virgin, and after birth you remained a virgin."
... I thought this to be an interesting thing I wanted to share, which highlights the importance of the devotion to Our Lady.
Thank you.
Sign up for our free e-mail list to see future vaticancatholic.com videos and articles.