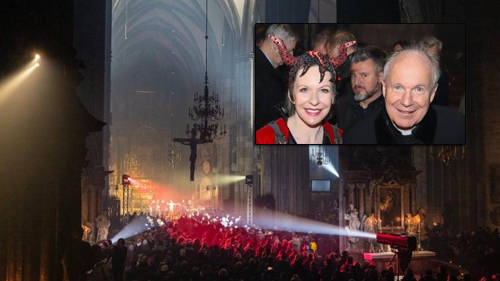 "Austrian Cardinal Christoph Schönborn is yet again allowing a pro-LGBT benefit concert to take place in Vienna's St. Stephen's Catholic Cathedral.
This is the third time Vienna's Archbishop has allowed the 'LIFE+' association to use the cathedral as a venue for the World AIDS Day charity concert...
The event last year, which the Cardinal attended, featured a shirtless actor known for playing homosexual roles standing on the altar rail, loud rock and electronic music, and actors dressed as demons.
This year, Austria's infamous drag queen 'Conchita Wurst,' who won worldwide fame when he represented his nation at the 2014 Eurovision contest, is one of a number of performers scheduled to appear at the 'Believe Together' fundraiser in Vienna's 14th-century mother church. The cathedral show, titled 'The Yearning for the Angels…,' will be the main event among 15 being held across Vienna on November 30 to raise money for AIDS relief projects.
The organizer of the event, homosexual activist Gery Keszler, thanked the cardinal when he announced the show.
'We are very grateful for the trust placed in us by Cardinal Schönborn,' he said.
Keszler is particularly eager for this year's concert to be a success, for his annual fundraising 'Life Ball' has been discontinued, resulting in the loss of up to 500,000 Euros to Viennese AIDs and HIV charities, he said.
The show is being co-sponsored by the Knights of Malta of Austria.
A source in Vienna told LifeSiteNews that 'Cardinal Christoph Schönborn intends to desecrate St. Stephen's Cathedral with homosexualist abominations again.'
'A certain Mr. Gery Keszler is organizer of the blasphemous 'life-ball', a homosexualist fund-raising event - and orgy. Presently, he has run out of money. He is a close friend of Cardinal Schönborn,' the source said...
Part of last year's event was the performance in the cathedral of adaption of a 1911 Austrian play called 'Jedermann.' The revamped 'Jederman' starred Philipp Hochmair – a celebrated Austrian actor known for his homosexual roles in different pro-LGBT movies – and featured his rock band God's Electrohand (Elektrohand Gottes)."
Sign up for our free e-mail list to see future vaticancatholic.com videos and articles.