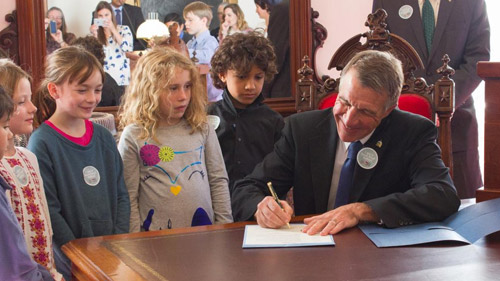 Vermont began rolling out a "condom availability program" last week that would allow children as young as 12 who attend Vermont public schools to get condoms upon request.
A law signed last year by pro-abortion Republican Gov. Phil Scott made Vermont the first state to have a legal mandate that public schools give out condoms to students. Planned Parenthood of New England will be distributing the condoms to the schools free of charge...
Schools are also expected to give information about how to use a condom that reflects inclusivity of gender identity, sexuality and ethnicity, as well as having trained staff on hand who can talk with students about sexual health and contraception if a student asks.
Guidelines for the program released by the Vermont Agency of Education state: "No secondary school student will be refused access to condoms through this program. Minors in Vermont have a legal right to access a full range of reproductive health services without parental permission."...
Vermont Right to Life, reacting to the law, expressed concern that the implementation of the law will lead to an increase of abortions in the state.
Vermont's House of Representatives passed a bill in February 2019 that prohibited state or local governments from prosecuting anyone who either procured or helped to procure an abortion, and prohibited any public entity from restricting benefits or services based on their decision to have an abortion.
Sign up for our free e-mail list to see future vaticancatholic.com videos and articles.