By Bro. Michael Dimond, O.S.B.
Read more of Benedict XVI's Recent Heresies
"Moscow, June 18, Interfax - The Vatican does not want to convert Russia to Catholicism, and relations with the Moscow Patriarchate are improving, President of the Pontifical Council for Culture Cardinal Paul Poupard told students of the Orthodox St. Tikhon Humanitarian University on Monday.

Poupard said the Vatican never wanted to make Russia a Catholic country. The Holy See is praying for a Christian Russia and further preaching by Orthodox and Catholic disciples, he said." (Interfax)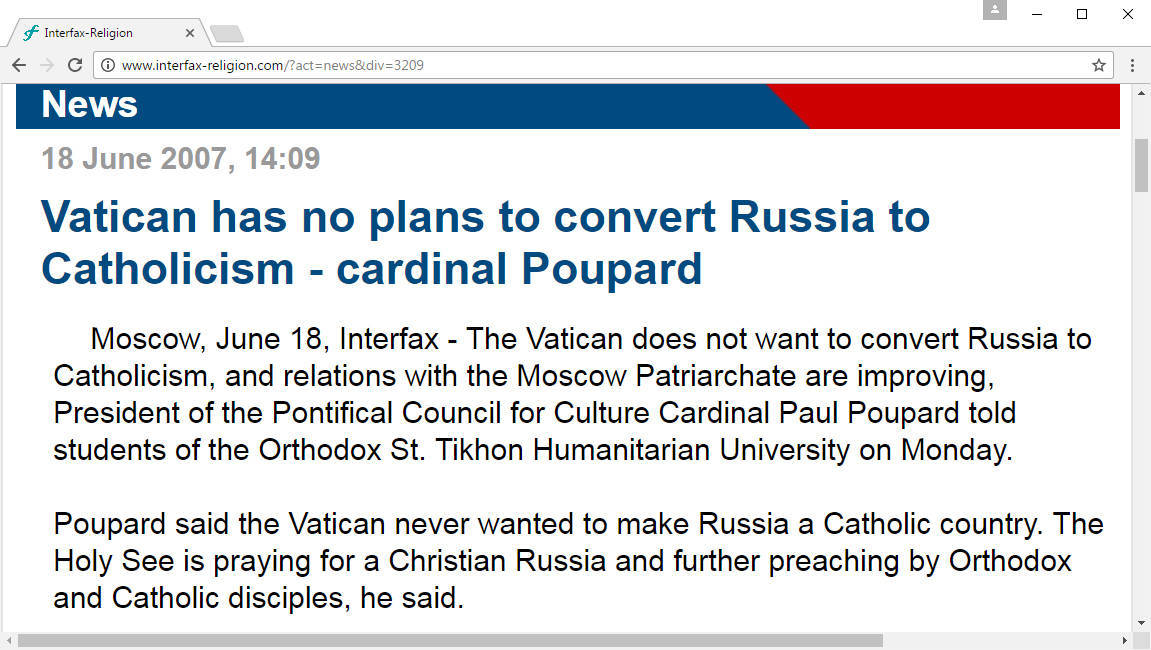 Well, there you have it. "Cardinal" Poupard is Benedict XVI's appointed head of the Pontifical Council for Interreligious Dialogue. He is also the President of the Pontifical Council on Culture. He bluntly admits that the Vatican – i.e., the Vatican of the post-Vatican II Counter Church – does not want to convert Russia to Catholicism. We have proven many times that this is the position of the Vatican II Church and its antipopes. We have proven that this position alone demonstrates that the Vatican II Church is not the Catholic Church.
We have proven that this has been the public teaching of Paul VI, John Paul II, Benedict XVI and numerous public actions of the Vatican II sect (e.g. the Balamand Statement). See the articles on our website for quotes from Benedict XVI, John Paul II, etc. on this issue. These facts persuade and continue to persuade those with eyes to see and an honest heart that the Vatican II antipopes are manifest heretics and therefore cannot be true popes. The blind defenders of the Counter Church and the false traditionalists, however, either ignore these facts (by linking to any conservative thing that Benedict XVI does) or they dishonestly attempt to explain them away. Hence, when "Cardinal" Poupard reiterates this manifestly heretical position of the Vatican in such a bold fashion, so that it once again cannot be ignored or explained away by a person of sincerity, it only further confirms that the sedevacantist position is the Catholic position. It further exposes the folly and bad will of those who, to their own perdition, obstinately remain united to Antipope Benedict XVI and the Counter Church and essentially foam at the mouth with excitement any time that Benedict XVI and his group of apostates do something conservative or spread a rumor about the Latin Mass.
Pope Leo XIII, Satis Cognitum (# 13), June 29, 1896: "You are not to be looked upon as holding the true Catholic faith if you do not teach that the faith of Rome is to be held."

Pope Leo XII, Ubi Primum (# 14), May 5, 1824: "It is impossible for the most true God, who is Truth itself, the best, the wisest Provider, and the Rewarder of good men, to approve all sects who profess false teachings which are often inconsistent with one another and contradictory, and to confer eternal rewards on their members… by divine faith we hold one Lord, one faith, one baptism… This is why we profess that there is no salvation outside the Church."
Sign up for our free e-mail list to see future vaticancatholic.com videos and articles.