lifesitenews.com
July 28, 2020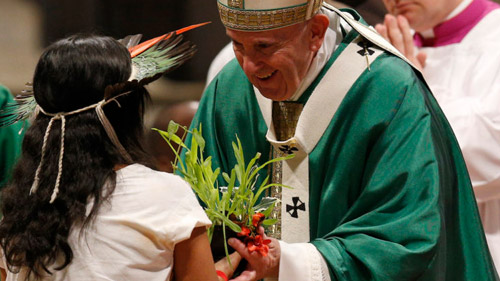 "The Vatican's Congregation for Clergy published an instruction Monday on parish reform and diocesan restructuring that sets out the role of the laity in the Church's mission of evangelization.
Pope Francis signed the 24-page document, titled 'The pastoral conversion of the parish community in the service of the evangelizing mission of the Church,' on June 29, the Solemnity of Ss. Peter and Paul.
The Vatican published it on July 20, along with a written introduction by Monsignor Andrea Ripa, the under-secretary of the Congregation for the Clergy, who described the instruction as an 'instrument with which to support and accompany the various projects of parish reform and diocesan restructuring.'...
The document specifies ways of assigning pastoral ministries within the parish and clarifies the role of the deacons, consecrated men and women, and laity in dioceses facing a shortage or lack of priests, as reported by Catholic News Service.
In such 'pastorally problematic circumstances,' which are to be regarded as extraordinary and temporary, the Church allows under Canon 517 that a bishop 'may entrust the pastoral care of a parish to a deacon, to a consecrated religious or layperson, or even to a group of persons,' the document stated. Such a 'consecrated religious' or 'layperson' could be female.
Those so entrusted 'will be directed by a priest with legitimate faculties, who will act as a 'moderator of pastoral care,' with the powers and functions of a parish priest, albeit without an office with its duties and rights,' it said.
'Furthermore, it would be preferable to appoint one or more deacons over consecrated men and women or laypersons for directing this kind of pastoral care.'
A bishop may also 'officially entrust to deacons, consecrated men and women and lay faithful, under the direction and responsibility of the Parish Priest' other duties beyond the canonically defined roles of lector and acolyte, the document says.
These include celebrating a Liturgy of the Word on Sundays and Holy Days of obligation in the extraordinary circumstance that no priest is available (giving pre-eminence to deacons in this situation); the provision of baptism; celebrating funeral rites; and assisting at marriages."
Sign up for our free e-mail list to see future vaticancatholic.com videos and articles.