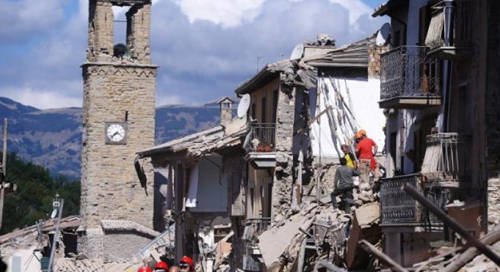 The BBC reports: "The Vatican has condemned a right-wing Catholic radio station after a broadcast said the recent earthquakes in Italy were 'God's punishment' for gay civil unions.

The remarks, made on the station Radio Maria, were 'offensive and scandalous', the Vatican said.

A Dominican friar said the quakes, including one in August that killed nearly 300, were caused by sins of man.

He said these included the approval of same-sex civil unions last May.

But the Vatican rejected the remarks as pagan, and said they had nothing to do with Catholic theology.  'They are offensive statements for believers and scandalous for those who do not believe', said Monsignor Angelo Becciu, deputy secretary of state, who is close to Pope Francis...

Radio Maria has published a statement (in Italian) on its website, saying the offensive comments did not reflect the views of the station." (http://www.bbc.com/news/world-europe-37877395)
Sign up for our free e-mail list to see future vaticancatholic.com videos and articles.