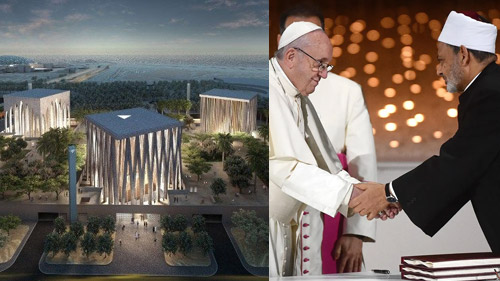 "The 'Abrahamic Family House,' a juxtaposition of three places of worship on Saadiyat Island in Abu Dhabi – one Muslim, one Jewish and one Christian – will open in 2022, according to a release from Higher Committee of Human Fraternity echoed by the Abu Dhabi Government Media Office and by Vatican News, the Vatican's own media service run by the Dicastery for Communication.
The 'Abrahamic Family House' is an architectural complex in which the three so-called 'Abrahamic' religions, or (abusively), the 'religions of the Book' born of God's promise to Abraham, are presented side by side in places of worship of equal proportions, set in a triangle around a 'common ground,' a garden where believers can meet and enter into 'dialogue' with each other.
The projected interfaith complex presents itself as an embodiment of the Abu Dhabi Document on Human Fraternity signed by Pope Francis and Imam Al-Tayeb of the Sunni Al-Azhar University of Cairo, and the 'Higher Committee for Human Fraternity' to which the joint declaration gave birth, and has been 'endorsed' and is being 'closely followed' both by Pope Francis and the Grand Imam.
Together with photos of the construction site, which show the foundations of the three religious buildings while one of them appears to be nearing completion, the release revealed the names officially chosen for the three religious buildings."
Sign up for our free e-mail list to see future vaticancatholic.com videos and articles.