The Israel Anti-Boycott Act, sponsored by Sen. Cardin, supported by 45 Senators and 237 congressmen, will criminalize the boycott of goods and services from the state of Israel.
Source: Congress.gov
If American citizens happen to defy this law, if approved, they will be fined a minimum of $250,000, and a maximum of $1 million plus 20 years in prison, designated for persons "engaged in interstate or foreign commerce."
The bill is said to be purposed to countermand a potential UN resolution that will prevent trade with East Jerusalem, the West Bank, and the Golan Heights. The idea behind the bill would be to prevent any American from joining the fray.
The ACLU takes exception to the bill, saying it's a direct violation of the First Amendment.
"In short, the bill would punish businesses and individuals solely based on their point of view," it wrote. "Such a penalty is in direct violation of the First Amendment."
The bill, rumored to have been written by the American Israel Public Affairs Committee (AIPAC), has garnered widespread bipartisan support. Finally, Congress has found something they could agree on.
Here you can see an AIPAC infographic highlighting this bill as part of their top lobbying priorities for 2017.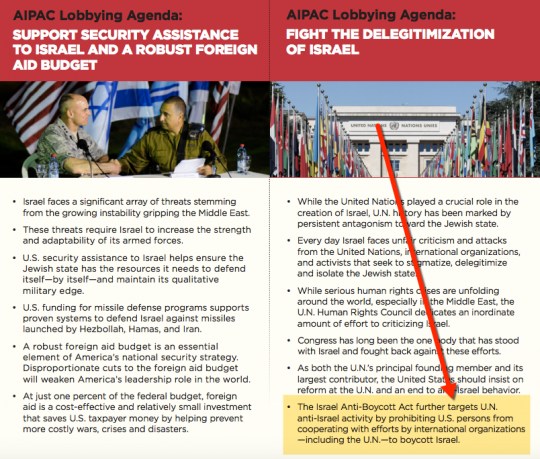 Thus far, 45 US Senators and 237 congressmen (63 dems, 174 republitards) support the measure.
The ACLU is actively lobbying opposition to this bill. Thus far, zero lawmakers have sided with them.
Sign up for our free e-mail list to see future vaticancatholic.com videos and articles.