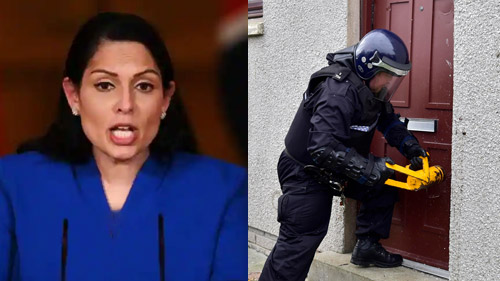 "The British government has claimed that it intends to send private security contractors to knock on the doors of anyone returning from holidays to make sure they are quarantining upon their return, as required by law.
Home Secretary Priti Patel announced Wednesday that those returning from destinations that have not been added to the government's 'green list' should expect to be checked on at their homes.
The warning comes after the government lifted international travel restrictions on Monday, allowing people to go on holiday, but with extensive caveats.
Patel claimed that 10,000 checks will be conducted every day by private contractors hired via the firm Mitie, and if people are found to be flouting quarantine or acting noncompliant, police will be called to deal with them, with the authorization to issue fines of up to £10,000.
The government has decreed that a negative PCR test and ten day quarantine is required for anyone returning from countries it has not deemed to be completely safe to visit, including the popular destinations of The U.S., France, Spain and Greece.
Those returning will then have to take a further two PCR tests (at their own expense) and test negative to be allowed out of their houses after the ten day period.
'People will not go unchecked,' Patel threatened. adding 'Significant resources have been put in place – millions of pounds – in terms of the follow-up checking of people around their testing and making sure they stay at home. It has been stepped up.'...
Health Secretary Matt Hancock also claimed that the door to door checks are already underway, with 30,000 being conducted last week...
In related news, it has been revealed that UK 'Covid passports' officially rolled out for use during international travel will eventually be used domestically to restrict the movement of the population, according to the small print on the NHS website."
Sign up for our free e-mail list to see future vaticancatholic.com videos and articles.