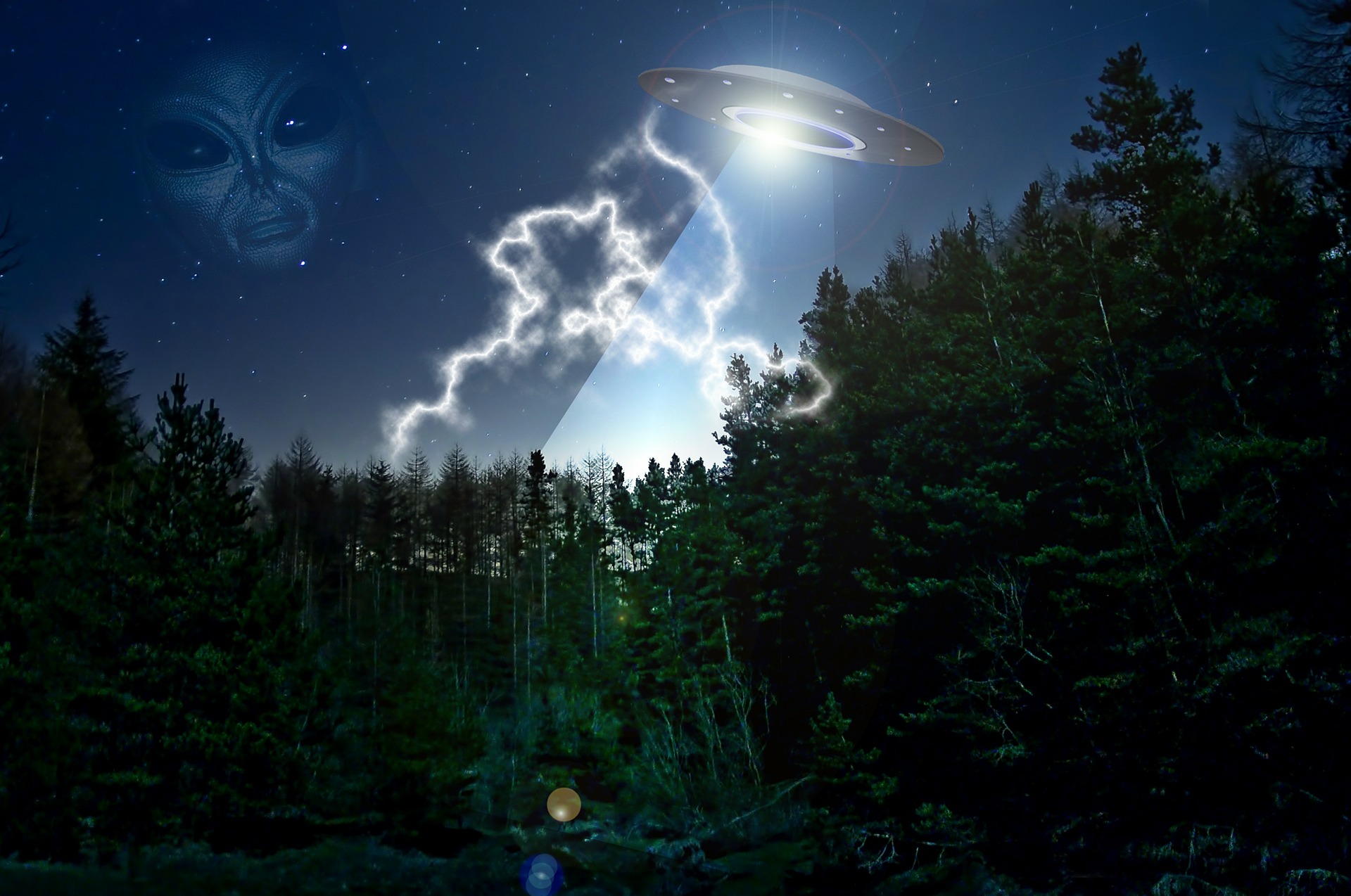 A Few Major UFO Sightings Throughout History
One of the earliest descriptions of a UFO was by the ancient Egyptians in approximately 1,500 BC. The Egyptians described seeing flying discs. They also noted a foul odor that emitted from the spacecraft.[1]
The deceased satanist Aleister Crowley, who described himself as the beast 666, wrote "how to" guides on magic and contacting angels. "Crowley was in contact with higher intelligences while writing The Book of the Law in Cairo, Egypt in 1904 at the behest of a being called Aiwass... It was Crowley's goal that through contact with non-human intelligent beings [demons or aliens] to bring to fruition the New Age..."[2]
Crowley claims to have contacted an alien intelligence and he made a drawing of what it looked like in 1918. Crowley said the being was named Lam. Crowley included the picture of Lam in his "Dead Souls Exhibition" held in Greenwich Village, NY, in 1919.[3] Crowley's drawing of Lam bears an incredible resemblance to the common visual conception of the "Gray ET." The Gray Aliens are the most common alien claimed to have been seen by abductees of ETs. The Grays emit a foul odor and sometimes appear naked to abductees.[4]
On the night of October 25, 1973, fifteen people, including a young farmer from Pennsylvania named Steven Pulaski, saw a bright red ball hovering over a field nearby. Steven took his rifle and went out to investigate. As the ball descended, its color changed from red to bright white. Screaming sounds could be heard nearby. Two creatures then appeared. They had greenish-yellow eyes and a burning rubber smell was around them. Steven got the sense that the creatures were not friendly, and fired a warning shot over their heads. The creatures continued approaching, so Steven fired directly at them. The creatures and the glowing object then instantly disappeared from the field.
Other witnesses also heard the strange noises from the woods and noticed the creatures. A state trooper and UFO researchers were then called in to investigate. Upon arrival, the people there said that Steven had been violently flailing his arms and growling like an animal. Steven's own dog ran toward him, and Steven attacked his dog. Steven then made prophecies of doom in a mocking tone of voice, accompanied by laughter. Steven then collapsed and, after a short time, came to his senses. The group of people present during these events commented on the nauseating sulfur-like odor that was present.[5] This odor is a characteristic of many UFO incidents. It should be noted that cases of demonic possession are also frequently characterized by horrible smells, including sulfur-like odors.
In addition to the people who have claimed to see UFOs, there are others who have claimed to have been abducted by the "aliens" that they believe are flying in the UFOs.
Whitley Strieber claims to have had real experiences of abduction by alien beings "on a non-physical level"[6] on more than one occasion. He wrote of some of his experiences in his bestselling books, Communion and Transformation.
Whitley Strieber: "I would say I was assaulted by something from the unknown, rather than possessed by it. I hope I was never possessed by it. Although there are those who would disagree with me... After what happened to me (the communion experience) I decided it might be a good idea to accept the idea of the devil just in case that's what I saw."[7]
Strieber described this experience when he claims he was "transported back in time" and described one of the beings as "what seemed almost to be a demon with a narrow face and dark, slanted eyes."[8]
Strieber: "Terrible fears raced through me: They were predators and they were going to eat our souls; they were demons and they were going to drag me off to hell."[9]

Strieber: "And before the great power of the visitors, what would their counsel have gained me? I was alone with this and at that moment I was in hell."[10]

Strieber: "… I worried that they would come and steal me away. Or perhaps they would kill me and eat my soul."[11]

Strieber: "Increasingly I felt as if I were entering a struggle that might be even more than life or death. It might be a struggle for my soul, my essence, or whatever part of me might have reference to the eternal. There are worse things than death, I suspected... So far the word demon had never been spoken among the scientists and doctors who were working with me. And why should it have been? We were beyond such things. We were a group of atheists and agnostics, far too sophisticated to be concerned with such archaic ideas as demons and angels... Alone at night I worried about the legendary cunning of demons... At the very least, I was going stark, raving mad."[12]

Strieber: "Why were my visitors so secretive, hiding themselves behind my consciousness? I could only conclude that they were using me and did not want me to know why... What if they were dangerous? Then I was terribly dangerous because I was playing a role in acclimatizing people to them."[13]

Strieber: "Of course they were demons. They had to be. And they were here and I couldn't get away…"[14]

Strieber: "… and [I] felt my soul being carried away by a triumphant spiritual predator… I wondered if I might not be in the grip of demons, if they were not making me suffer for their own purposes, or simply for their enjoyment."[15] Strieber said he could smell the presence of the "aliens" and they smelled like sulfur.[16]
Common Abduction Experiences & Medical Examinations Conducted by "Aliens" on Abductees
Reports of alien abductions have skyrocketed since the late 1980s. Dr. John Mack, Harvard psychiatrist, has stated that he thinks four to five million Americans believe they have been abducted by aliens.[17]
Here is a brief description of some of the things that have happened to people who have claimed to have been abducted by aliens from UFOs: burns, medical experiments, mutilations, mustard gas smells, grotesque appearances, false prophecies, blatant lies, and occultic messages.[18]
Other people who have claimed encounters with aliens have said they experienced things like headaches, dizziness, nausea, confusion, helplessness, despair, and various pains during the encounter. Some abductees have even died or committed suicide after being contacted by UFOs or their occupants.[19] Animals very frequently have given the impression of being "spooked" just before and during UFO sightings.[20] Sometimes animals have been frightened to the extent of injuring themselves in their fright. Inanimate objects, most commonly vehicles and their engines, were disabled, and the headlights died or were dimmed.[21] The radios would also cut out or exhibit uncommon static. In such cases, the vehicles returned back to normal operation after the UFO departed from the scene.[22]
These "aliens" are demons and bear the marks of demons. Here are more of the things that happened to abductees after they had contact with these aliens. The aliens altered the perception of their surroundings. Aliens would control what the abductees were seeing. They appeared under different forms and shapes. The aliens passed through walls and windows, and sometimes materialized and dematerialized directly in front of them. Aliens sometimes put marks or scars on the bodies of abductees. These marks have included bruises, cuts, single and multiple punctures, three and four-fingered claw marks, and triangles of every sort.
Speaking about abductions, Joe Jordan, director for the mutual UFO network, said: "The similarity between the [UFO] abduction experience and demonic possession is very, very close."[23]
Abductees have also reported being scoffed at, jeered at, and threatened by their alien captors. Some said they were subjected to different kinds of medical experiments and examinations. Typically, special attention was given to the genital area[24] and some claimed painful genital and anal probes were performed.[25] Dr. John Miller reported that when abductees asked the aliens why invasive and often humiliating medical procedures were being performed, the aliens would often respond with a statement like, "we have a right to do this."[26] Abductees have been threatened that very bad things would happen to them if they didn't co-operate with their alien captors.[27] The medical examinations were performed by the aliens against or irrespective of the will of the abductee. These examinations often focused on sex and reproductive biology.[28] Some abductees have claimed that the aliens have also "forced" their human abductees to have sexual contact or intercourse.[29] Sometimes the aliens have spoken to the abductees. Generally, the "aliens" questioned the abductees on their sexual practices or about life on earth.[30]
Science writer Jim Schnabel has tied modern-day alien abduction story narratives to stories of 16th-17th century demonic possession and witchcraft cases, some current third-world spirit possession syndromes, and Satanic Ritual Abuse and sexual abuse claims that mesmerized many American psychiatrists in the 1980s and 1990s.[31]
Gwen Dean, a California-based therapist, noted forty-four parallels between Satanic Ritual Abuse (SRA) and alien abductions. Both became widespread in the late 1970s and early 1980s. Victims of both use hypnosis to recover suppressed or lost memory. Events and narratives explained by SRA victims and "alien" abductees feature many similarities. These similarities include how the alien examination table is similar to the satanic altar, and how both phenomena focus on rape, sexuality, and breeding.[32]
Astronomer Carl Sagan also pointed out that the modern alien abduction experience is remarkably similar to common stories of demonic possession throughout history. Speaking of the similarities, Sagan said: "… most of the central elements of the alien abduction account are present, including sexually obsessive non-humans who live in the sky, walk through walls, communicate telepathically, and perform breeding experiments on the human species."[33]
If the alleged aliens have super-advanced technology, why would they need to repeatedly perform crude medical experiments on person after person to discover what they need to find out?
Dr. Jacques Vallee: "The 'medical examination' to which abductees are said to be subjected, often accompanied by sadistic sexual manipulation, is reminiscent of the medieval tales of encounters with demons. It makes no sense in a sophisticated or technical or biological framework: any intelligent being equipped with the scientific marvels that UFOs possess would be in a position to achieve any of these alleged scientific objectives in a shorter time and with fewer risks."[34]

Vallee: "… abductees of both sexes have described having intercourse with the aliens."[35]

Vallee: "I pointed out in Invisible College that the structure of abduction stories was identical to that of occult initiation rituals."[36]

Vallee: "An equally impressive parallel could be made between UFO occupants and the popular conception of demons…"[37]

Vallee: "The belief pattern that has been created around the UFO abductions is reminiscent of medieval theories of abduction by demons, pacts with Satan… complete with the Mark of the Devil on the body of the witch. As French sociologist Pierre Lagrange has pointed out to me, the only missing element is the familiar – the black cat or the owl that used to accompany the witches!"[38]

Scientist Dr. Pierre Guerin of the Paris Astrophysical Institute[39] said: "UFO behavior is more akin to magic than to physics as we know it... the modern UFOnauts [aliens] and the demons of past days are probably identical."[40]
Psychologist Elizabeth Hillstrom has pointed out that a growing number of academics support the conclusion that aliens are synonymous with historical demons.[41]
Speaking of the ancient study of demonic possession, John Keel said: "Thousands of books have been written on the subject [demonic possession]… The manifestations and occurrences described in this imposing literature are similar, if not entirely identical, to the UFO phenomenon itself. Victims of demonomania (possession) suffer the very same medical and emotional symptoms as the UFO contactees."[42]
Hypnosis Brings Out the Detailed Stories of UFO Abductions
Most stories of UFO "abductions" are only recalled under hypnosis. Hypnosis puts a person into an altered state of consciousness. It puts a person in a highly suggestible state. For example, the hypnotist Kreskin proved this in an experiment with a group of fourteen people. After he put them under hypnosis, they were told (after being taken outside) that a UFO was in the sky, and everyone in the group claimed to see a UFO. The hypnotist then took them out of the hypnosis, got them in front of a TV camera, and asked them: "Have you ever seen a UFO?" They answered: "No." Yet, they just claimed they had seen one moments before.[43] This proves that a person can be made to believe that he saw a UFO if he has been hypnotized. Numerous studies have demonstrated that hypnotic regression can cause memories of events that never happened;[44] these aid in exaggerations that are stated as facts.[45]
Dr. Martin Orne is one of the leading experts on hypnosis and is a former president of the International Society of Hypnosis. Orne has cited experiments conducted as far back as 1961 which demonstrated that "it is possible for even deeply hypnotized subjects to willfully lie" and "it is possible for an individual to feign hypnosis and deceive even highly experienced hypnotists… We should keep in mind that psychologists and psychiatrists are not particularly adept at recognizing deception... the average hotel credit manager is considerably more adept at recognizing deception than we are."[46] Orne went on to say that "… the clinician's belief in the historical accuracy of the memories brought forth under hypnosis is likely to be erroneous."[47]
Hypnosis is practiced by witchdoctors and yogis and is certainly an unscientific process.[48] Under hypnosis a person can also come under demonic activity or possession. TM (Transcendental Meditation) is a practice in which a person is put into a hypnotic trance. Ufologist Don Elkens said: "I have found that some people can achieve the [UFO] contact phenomenon simply by being hypnotized…"[49]
Considering the examples above, the fact that most UFO abduction experiences are usually never fully revealed by UFO "abductees" until the abductees are put under hypnosis is important. As has been proven, just because a story is told under hypnosis doesn't mean at all that the story is true and that the experiences were real. For example, "there was a criminal case... in which a man was convicted of murdering his wife on the basis of testimony given by his son under hypnosis. Some time then passed, and the wife turned up alive and healthy."[50]
The Famous Betty & Barney Hill Abduction
One night Betty Hill (a believer in UFOs) was driving home, and she believed that she and her husband were being followed by a bright, star-like object. Sometime after this event, Betty had a nightmare for four nights in which she and her husband were taken aboard a flying saucer.[51] Betty was convinced she had been abducted by aliens, but Barney wasn't so sure. The Hills decided to undergo hypnosis so that they would better "recall" what might have happened or what this meant. Under hypnosis, the Hills gave details concerning what they believed had happened to them. Betty and Barney disagreed on the appearance of the aliens.[52] Betty said that the aliens spoke to her in English with a foreign accent, while Barney's recollection contradicted that assertion.[53] Under hypnosis, Betty's description of the short men, whom she claimed to see in the UFO encounter, was different from how she described them from her dreams. Barney's hypnotic sessions "were often quite emotional, punctuated with angry outbursts, expressions of fear, and episodes of hysterical crying." Betty later claimed to see UFOs a number of times after her original "abduction" and became a celebrity in the UFO community.[54]
Most of the abductees have reported being taken from their bedroom right before falling asleep. Typically, at the beginning of the abduction experience, the abductee reports paralysis, the freezing or slowing of time, or seeing a bright light, and the appearance of humanoid figures.[55] This experience is not an abduction, but is in reality a visitation by a demon.
Bud Hopkins has written many books on UFOs. He is probably the foremost expert in the world on UFO abduction cases. He stated: "Now we have come to the conclusion that [alien] abduction – their involvement with human beings – is the center of the entire UFO phenomenon... Actually, when people have UFO sightings, it is very possible that what they are seeing is something [an "alien"] on its way to or from an abduction of somebody. They are not just flying around up there; they are interested very profoundly in human beings... These experiences sound crazy; it sounds impossible. It is impossible, according to our physics. But we often use hypnosis to flesh out all the recollections."[56]
Bud Hopkins: "One thing that has given credence to the phenomenon of UFO Abductions, aka 'Close Encounters of the Third Kind,' is the fact that many of the victims don't remember their experiences until they are hypnotically regressed to the time when the incident occurred. That is, the victim only consciously remembers, at most, a UFO sighting. But he or she has symptoms, often including time that cannot be accounted for, which cause the victim to seek professional help, resulting in a hypnosis session. The hypnotist puts the victim in a trance and tells him or her to return to the time of the event. Then the hypnotist asks the victim questions about what happened, and the victim tells a story about an abduction."[57] Some abductees under hypnosis will relate their event calmly, while others may cry in apparent horror, shout angrily, tremble with fear, or beg pathetically for the event to stop.[58] Bud Hopkins has also claimed that a person could be a UFO abduction victim without even remembering having seen a UFO or having been in a flying saucer.[59]
Dr. Leo Spinkle is a scientist who conducted a five-year study of 82 people who reported UFO experiences. Most of them claimed to be able to re-live the experiences they had through hypnosis, and all suffered severe psychological disturbances afterwards.[60]
UFO expert John Keel stated: "Millions of people have been affected at least temporarily by UFO contact; thousands have gone insane and ended up in mental institutions after their experiences with these things began."[61]
Surveys have also confirmed that a vast majority of abductees have shown an interest in the New Age movement and Eastern religions. Many abductees have also claimed to have past involvement with astrology, astral projection, witchcraft, Ouija boards, and channeling.[62] This supports the argument that UFO phenomena are a result of demonic activity.
Most people who have claimed to have been abducted by aliens are almost always totally changed after the abduction. Their view of the world is changed and many develop a deep interest in the occult and paranormal or mystical activities.[63] UFO researcher Trevor James said: "A working knowledge of occult science… is indispensable to UFO investigations."[64]
Many believers in aliens think that by allowing themselves to be put into a hypnotic trance they can be used as a channeling device through which the alien can speak through them or to them. Many times the person who is used as a channeling device is called a "walk-in."[65]
Ruth Montgomery is a New Ager and a famous "automatic" writer who has claimed to receive some messages from "aliens." Ruth Montgomery says this about walk-ins: "A walk-in is a high-minded entity that is permitted to take over the body of another human being who wishes to depart."[66] Walk-ins are actually what the Bible teaches is the reality of demonic possession. Many UFO believers have invited alien entities to take over their bodies. They say their goal is to usher in a new age. It is claimed by many New Agers that these walk-ins are very highly evolved entities that are seeking embodiment inside of a human being.[67] Also, interviews done with ex-Satanists and Wiccans indicate a high level of contact with various alien types, especially during coven meetings and holiday rituals.[68] 1 Timothy 4:1 says: "The spirit clearly says that in the last times some will abandon the faith and follow deceiving spirits and things taught by demons."
In 1969, the United States Printing Office published a 400-page document authored by Lynn Catoe called UFOs and Related Subjects, an Annotated Bibliography. Catoe was senior bibliographer for the Library of Congress. Catoe read over one thousand books, articles, and other literature during her investigation of UFOs.[69] Catoe gave a general conclusion of her findings in the preface of her bibliography: "A large part of the available UFO literature is closely linked with mysticism and the metaphysical. It deals with subjects like mental telepathy, automatic writing and invisible entities as well as phenomena like poltergeist manifestations and possession. Many of the UFO reports now being published in the popular press recount alleged incidents that are strikingly similar to demonic possession and psychic phenomenon that have long been known to theologians and parapsychologists."[70] Catoe's document was compiled for the United States Air Force and is currently in the Library of Congress.
Endnotes:
[1] The UFO Conspiracy (DVD)
[2] www.mt.net/~watcher/ufos.html
[3] http://www.illuminati-news.com/2007/1110b.html, pp. 1 & 2.
[4] http://en.wikipedia.org/wiki/Grey_aliens, p. 2.
[5] Flying Saucer Review, Vol. 20, No.1, 1974 & The UFO Conspiracy (DVD) and from www.ufoevidence.org/documents/doc1806.htm
[6] Whitley Strieber, Transformation, Avon Books, 105 Madison Ave., New York, NY, p. 256.
[7] The UFO Conspiracy (DVD)
[8] Whitley Strieber, Communion, Harper Collins Publishers, New York, NY, p. 133.
[9] Whitley Strieber, Transformation, p. 232.
[10] Whitley Strieber, Transformation, p. 12.
[11] Whitley Strieber, Transformation, p. 126.
[12] Whitley Strieber, Transformation, p. 36.
[13] Whitley Strieber, Transformation, p. 92.
[14] Whitley Strieber, Transformation, p. 190.
[15] Whitley Strieber, Transformation, p. 180.
[16] The UFO Conspiracy (DVD)
[17] Dana Koenig, Another Alien Invasion, www.fillthevoid.org/Ufo/Another-invasion.html, p. 2.
[18] www.geocities.com/roswell.geo/?200824
[19]Dr. Jacques Vallee, Messengers of Deception, p. 21.
[20] Gary Bates, Alien Intrusion, p. 23.
[21] J. Allen Hynek & Jacques Vallee, The Edge of Reality, p. 5.
[22] J. Allen Hynek, The UFO Experience, A Scientific Inquiry, pp. 33, 127.
[23] www.geocities.com/roswell.geo/?200824
[24] Chuck Missler & Mark Eastman, Alien Encounters, p. 107.
[25] Also see Linda Moulton Howe, An Alien Harvest, Linda Moulton Howe Productions, PO Box 300, Jamison, PA, pp. 110, 338
[26] Miller, John G. "Medical Procedural Differences: Alien Versus Human." In: Pritchard, Andrea & Pritchard, David E. & Mack, John E. & Kasey, Pam & Yapp, Claudia. Alien Discussions: Proceedings of the Abduction Study Conference. Cambridge: North Cambridge Press, pp. 59-64.
[27] Dr. Karla Turner, Aliens – Friends or Foes?" UFO Universe, Spring, 1993.
[28] http://en.wikipedia.org/wiki/Abduction_phenomenon, p. 4.
[29] http://en.wikipedia.org/wiki/Abduction_phenomenon, p. 12.
[30] http://en.wikipedia.org/wiki/Abduction_phenomenon, p. 6.
[31] http://en.wikipedia.org/wiki/Abduction_phenomenon, p. 15.
[32] http://en.wikipedia.org/wiki/Abduction_phenomenon, p. 16.
[33] http://en.wikipedia.org/wiki/Abduction_phenomenon, p. 16.
[34] Dr. Jacques Vallee, Confrontations, p. 17.
[35] Dr. Jacques Vallee, Dimensions, p. 9.
[36] Dr. Jacques Vallee, Confrontations, p. 177.
[37] Dr. Jacques Vallee, Messengers of Deception, p. 14.
[38] Dr. Jacques Vallee, Confrontations, p. 158.
[39] Dr. Jacques Vallee, Dimensions, p. 238.
[40] Flying Saucer Review, Vol. 25, No.1, p. 14.
[41] www.primeexample.com/skitwit/ufoarticle.htm
[42] John Keel, Operation Trojan Horse, p. 192.
[43] Dr. J. Allen Hynek & Jacques Vallee, The Edge of Reality, p. 117.
[44] Carl Sagan, The Demon-Haunted World, Random House, 1996, pp. 153-188.
[45] http://en.wikipedia.org/wiki/Abduction_phenomenon, p. 14.
[46] Phillip J. Klass, UFOs, The Public Deceived, Prometheus Books, Buffalo, NY, p. 277.
[47] Phillip Klass, UFO Abductions, A Dangerous Game, Prometheus Books, Buffalo, NY, pp. 57-58.
[48] Dr. Jacques Vallee, Dimensions, p. 289.
[49] The UFO Conspiracy (DVD)
[50] www.be-ready.org/deception.html
[51] Phillip Klass, UFO Abductions, A Dangerous Game, pp. 9-10.
[52] Dr. Jacques Vallee, Passport to Magonia, Contemporary Books, Chicago, IL, p. 93.
[53] Phillip Klass, UFO Abductions, A Dangerous Game, p. 12.
[54] http://en.wikipedia.org/wiki/Betty_and_Barney_Hill_abduction, p. 11.
[55] http://en.wikipedia.org/wiki/Abduction_phenomenon, p. 4.
[56] The UFO Conspiracy (DVD)
[57] www.be-ready.org/deception.html
[58] http://en.wikipedia.org/wiki/Abduction_phenomenon, p. 3.
[59] Phillip Klass, UFO Abductions, A Dangerous Game, p. 77.
[60] The UFO Conspiracy (DVD)
[61] John Keel, Strange Creatures from Time and Space, Greenwich, CT, 1970, p. 189.
[62] http://www.fillthevoid.org/Ufo/Devils-in-disguise-1.html
[63] Gary Bates, Alien Intrusion, PO Box 726, Green Forest, AR, p. 159.
[64] Trevor James, Flying Saucer Review, Vol. 8, No. 1, p. 10.
[65] The UFO Conspiracy (DVD)
[66] Ruth Montgomery, Strangers Among Us, Fawcett/Crest, p. 11.
[67] http://www.fillthevoid.org/Ufo/Devils-in-disguise-1.html
[68] Ron Patton, Demons in Alien's Clothing, p.1, www.conspiracyarchive.com/UFOs/demons_aliens_clothes.htm)
[69] The UFO Conspiracy (DVD), New Liberty Videos, Shawnee Mission, KS.
[70] Lynn E. Catoe, UFOs and Related Subjects: USGPO, 1969, prepared under AFOSR Project Order 67-0002 and 68-0003.
Sign up for our free e-mail list to see future vaticancatholic.com videos and articles.