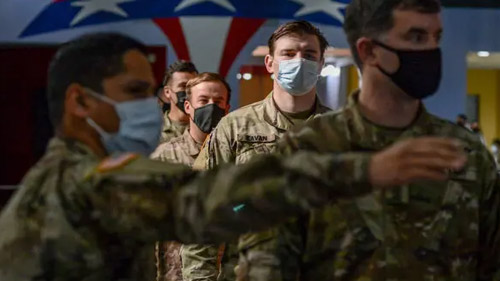 Earlier this month, flunky Defense Secretary Lloyd Austin dutifully announced at the bidding of Joe Biden's handlers that every currently serving military member will be forced to take the jab or face disciplinary action and court martial for 'disobeying a lawful order.'
Mind you, current research has shown that while young people are not at risk of developing a serious case of COVID and dying from it, there is an elevated association between the vaccines and conditions like myocarditis and blood clotting in young people.
Given that by far, most members of the U.S. military are young, this fact alone should be a major red flag. But it isn't; the Pentagon is going ahead with the vaccines anyway, though now, finally, some in the ranks are sounding the alarm bell.
In a two-and-a-half page paper, Navy CDR. J.H. Furman is warning that mass inoculation of U.S. military personnel could turn out to be a catastrophe.
"The forced vaccination of all military personnel with the present COVID-19 vaccines may compromise U.S. national security due to the unknown extent of serious vaccine complications," writes Furman, according to Revolver.news. "Further study is needed before committing the Total Force to one irreversible experimental group. Initial reports leave more concern for the COVID-19 vaccinations than the virus itself for the (at present) exceptionally healthy military population."
Sign up for our free e-mail list to see future vaticancatholic.com videos and articles.