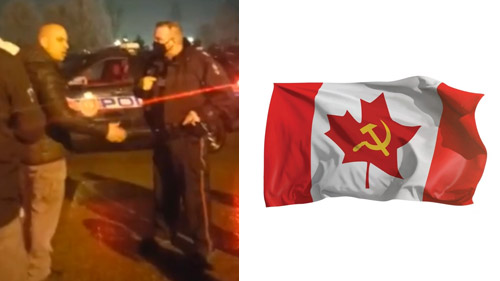 "'Two Toronto Police officers are facing charges for violating lockdown orders under the Reopening Ontario Act for attending a gathering Tuesday night at an Aylmer church.
The Church Of God Restoration, located two hours southwest of Toronto, has been holding both outdoor and indoor services and gatherings in protest of pandemic restrictions that have resulted in numerous fines and charges to both the pastor and attendees.
The off-duty officers attended a 'large gathering' at the congregation that a resident called the Aylmer police about.
Aylmer police found 18 people unmasked and not socially distancing inside the building. Current restrictions state that religious services can only allow 10 people to attend whether indoors or outside.
A video posted by Randy Hillier, the Lanark-Frontenac-Kingston MPP and vocal opposition of COVID-19 lockdowns and mask, shows a portion of the heated dispute between Aylmer officers and the off-duty Toronto officers and other attendants of the event…
They accused the officers of breaking the charter by harassing people on private property and acting from a place of ego.
The officer refused to disclose his name and badge number to those that were demanding it.
The female tells the officer 'I can't wait to speak to your chief.' To which the officer responds, 'I can't wait either, would you like his number?
Under the Reopening Ontario Act and the Emergency Management and Civil Protection Act, those found in violation can be fined anywhere from $750 to $100,000, in addition to jail time.'"
Watch Police Officers being charged for exercising their Charter rights…

Curious why the news left out that active duty officers were being charged…https://t.co/QAwvbfBbe9

Full Video:https://t.co/TQdfsJigt8#ONPoli #CDNPoli #NoMoreLockdowns #WeMustResist pic.twitter.com/EDW2upGlOP

— Randy Hillier (@randyhillier) April 22, 2021
Sign up for our free e-mail list to see future vaticancatholic.com videos and articles.