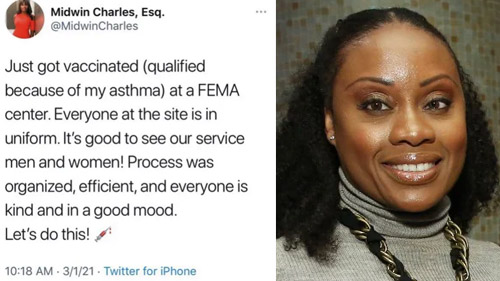 "Celebrity legal analyst and television personality Midwin Charles has died at age 47, her family confirmed in a tweet posted Tuesday. Charles' untimely death comes just over a month after receiving her first injection with Pfizer's experimental mRNA vaccine against COVID-19. No cause of death has yet been announced.
Charles, a regular contributor on CNN and MSNBC, received a dose of the Pfizer mRNA vaccine on March 1. After her inoculation, she posted about it on Twitter, boasting of the efficiency of the process and encouraging others, saying 'Let's do this!'
Just got vaccinated (qualified because of my asthma) at a FEMA center. Everyone at the site is in uniform. It's good to see our service men and women! Process was organized, efficient, and everyone is kind and in a good mood. Let's do this!

— Midwin Charles, Esq. (@MidwinCharles) March 1, 2021
Charles… did write on her Twitter profile that she was experiencing 'a little soreness at vaccine injection site' within 24 hours of receiving the jab, updating two days later that her pain had dissipated. She also reported having "mild fatigue" and, apparently via Instagram, "shortness of breath."
Despite her worry of possible anaphylaxis and experience of pain from the injection, Charles proceeded to exert pressure on her mother to receive the vaccine, apparently coercing her into taking the jab after 'weeks of convincing.'
Just over two weeks after her first shot, on March 19, Charles uploaded a post to her Instagram account, explaining that she was not feeling well. A few weeks later, on April 7, she died, though no cause of death has yet been reported."
Sign up for our free e-mail list to see future vaticancatholic.com videos and articles.