theguardian.com
March 23, 2020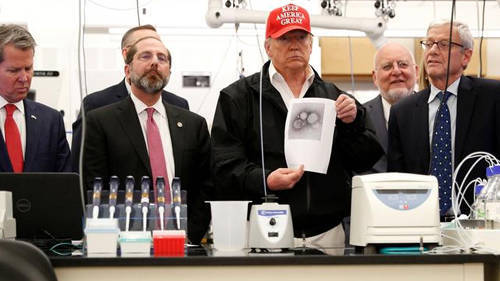 "Donald Trump has signalled a potential change in his handling of the coronavirus pandemic, amid warnings of a record plunge in economic activity and unemployment potentially hitting 30%.
Writing in capital letters in a tweet late on Sunday, the US president said: 'We cannot let the cure be worse than the problem itself. At the end of the 15-day period' – of White House guidelines to enforce social distancing and other measures which began on 16 March – 'we will make a decision as to which way we want to go.'
Mike Pence, who heads the White House coronavirus task force, said earlier in the day the federal Centers for Disease Control and Prevention (CDC) would issue guidance on Monday meant to allow people already exposed to the coronavirus to return to work sooner.
The shift in tone could foreshadow a clash between a White House alarmed by economic paralysis in an election year and public health experts urging caution. The US now has more than 39,000 confirmed cases of coronavirus and more than 400 deaths.
After being criticised for a slow response to the crisis, Trump declared a national emergency and agreed to implement drastic measures. But the economic pain was swift. Last week the Wall Street Journal editorial board warned that 'federal and state officials need to start adjusting their anti-virus strategy now to avoid an economic recession that will dwarf the harm from 2008-2009'.
Bret Stephens, a conservative columnist at the New York Times, which Trump monitors closely, wrote on Sunday that treating the virus as a threat comparable to the second world war 'needs to be questioned aggressively before we impose solutions possibly more destructive than the virus itself'.
And Tom Fitton, a conservative commentator known to influence the president, tweeted: 'The consequences of this national shutdown, apart from any pandemic, are dire and will not be materially alleviated by any 'stimulus' and [government] spending. The only stimulus that will work is opening America back up for business.'
The change came as central bankers warned of unprecedented fallout. The St Louis Fed chief, James Bullard, said America's GDP could shrink 50%, with unemployment rising to 30% in the second quarter. On Wall Street, Morgan Stanley saw a 30% contraction, driving unemployment to 12.8%."
Sign up for our free e-mail list to see future vaticancatholic.com videos and articles.