President Trump suggested Tuesday that he'd like to leave the Middle East entirely but Israel is "one reason" for remaining.
Trump also said he's standing by the Saudis because they provide a "counterbalance to Iran" and "without them, Israel would be in a lot more trouble."
The rather shockingly blunt statement on what drives America's foreign policy was buried in this article from The Washington Post, "Trump stands by Saudi crown prince in Khashoggi killing":
In addition to preserving cheap oil, Trump said, the Saudis are essential to maintaining stability in the Middle East.
"It's a dangerous, rough part of the world," he said. "But they've been a great ally. Without them, Israel would be in a lot more trouble. We need to have a counterbalance to Iran."
The president said that he had never done business with the Saudis and that his future financial interests had no bearing on his policy decisions.
"Never did business with them, never intend to do business with them," Trump said. "I couldn't care less. This is a very important job that I'm doing right now. The last thing I care about is doing business with people. I only do business for us."
In the past, Trump has said he did business with Saudis, including selling them real estate.
But the president also seemed to envision a day when the United States wasn't so beholden to the Saudis.
"It's very important to have Saudi Arabia as an ally, if we're going to stay in that part of the world," Trump said. "Now, are we going to stay in that part of the world? One reason to is Israel. Oil is becoming less and less of a reason because we're producing more oil now than we've ever produced. So, you know, all of a sudden it gets to a point where you don't have to stay there."
The President of the United States has now openly admitted the interests of Israel is what drives our foreign policy in the Middle East.
As this is all happening, Rand Paul is currently being dragged through the mud for putting a hold on a record $38 billion military aid package to Israel negotiated under Obama and signed off on overwhelmingly by Democrats and Republicans in the House and Senate (who can't agree on anything to help America).
The American Israel Public Affairs Committee (AIPAC) is currently running attack ads against Rand Paul in his home state of Kentucky: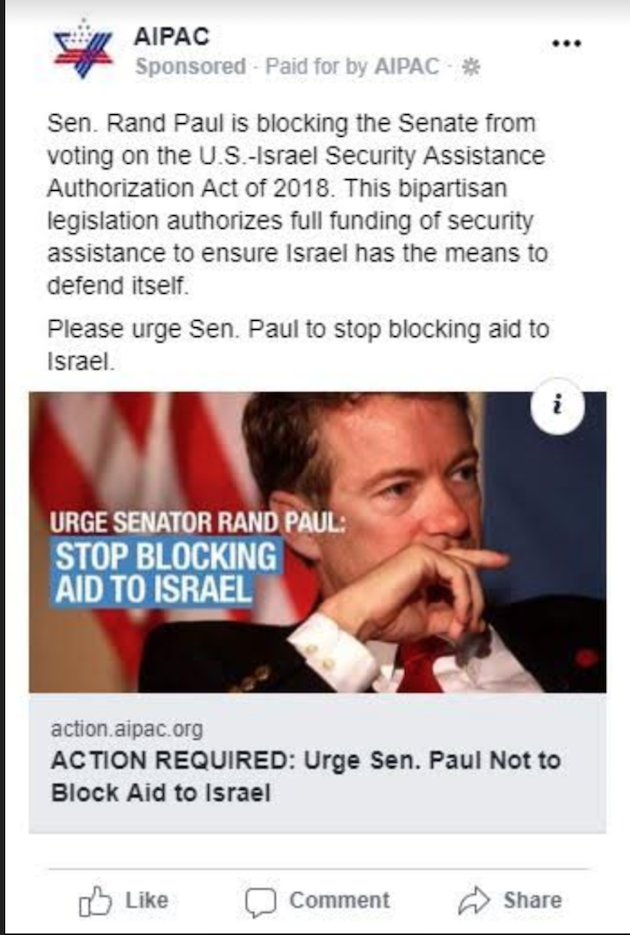 This is getting zero coverage America's controlled press.
Sign up for our free e-mail list to see future vaticancatholic.com videos and articles.