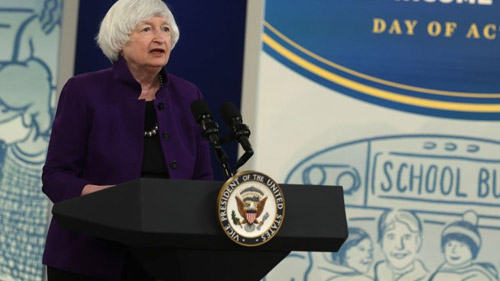 "Treasury Secretary Janet Yellen on Thursday sanctioned a host of Russian-backed news outlets for allegedly 'advancing false narratives' and spreading 'false information' to 'undermine COVID-19 vaccines' and paint 'Ukrainian government officials as the aggressor in the Russia-Ukraine relationship.'
Yellen's sanctions hit the Strategic Culture Foundation, Odna Rodyna, Rhythm of Eurasia, Journal Kamerton, InfoRos, SouthFront, United World International, New Eastern Outlook, Oriental Review and Geopolitica.
Yellen provided no evidence or specific examples of any 'false information' the various websites allegedly spread to 'undermine COVID-19 vaccines' in her press release announcing the sanctions.
The sanctions freeze the websites' assets and ban Americans from donating to them.
Anonymous 'US intelligence officials' last month accused ZeroHedge of 'amplifying Kremlin propaganda' for sharing content from the Strategic Culture Foundation and there was language in Yellen's press release which appeared to allude to ZeroHedge being in her sights as well.
From the US Department of the Treasury:
FURTHER ACTION AGAINST RUSSIAN INTELLIGENCE-DIRECTED DISINFORMATION OUTLETS
On April 15, 2021, OFAC designated Strategic Culture Foundation, InfoRos, NewsFront, and SouthFront for propagating Russian intelligence services-directed content. Since designation, these online media sites have attempted to evade sanctions and continue advancing false narratives against a variety of topics, including the COVID-19 pandemic. Russia's disinformation and propaganda machine is a network of official and unofficial communication channels and platforms that Russia uses to create and amplify false narratives. Russia invests massively in these propaganda outlets to support their disinformation efforts, and it leverages outlets that pose as news sites to spread these false and misleading narratives. These media outlets repeatedly republish content from each other in an attempt to legitimize and popularize the disinformation narratives they propagate. The propaganda they collectively generate then is available to be cited by slightly larger, slightly more credible outlets, which filters their Russian intelligence-directed propaganda to a larger readership. This approach also allows Russia to be opportunistic, such as with COVID-19, where it has used the global pandemic as a hook to push longstanding disinformation and propaganda narratives.
That sounds like a dig at ZeroHedge, does it not?
Note, the Treasury has a link at the top of their page urging everyone to go 'visit Vaccines.gov' and get vaxxed...
This is all just a lawless, blatant attack on the First Amendment. It comes just months after Attorney General Merrick Garland seized the domain names of Press TV and other Iranian news outlets he didn't like.'"
Sign up for our free e-mail list to see future vaticancatholic.com videos and articles.