nytimes.com
February 16, 2021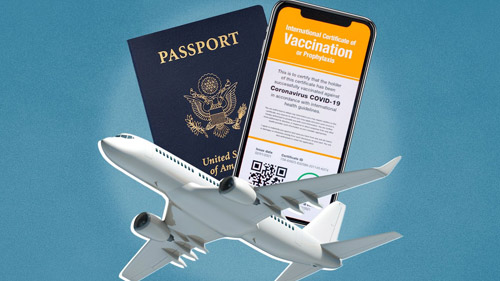 "Among governments and those in the travel industry, a new term has entered the vocabulary: vaccine passport.
One of President Biden's executive orders asks government agencies to 'assess the feasibility' of linking coronavirus vaccine certificates with other vaccination documents, and producing digital versions of them.
The Danish government said on Wednesday that it would introduce a 'digital passport' in the next few months that can be used as proof of vaccination.
In a few weeks, two airlines, Etihad Airways and Emirates, will start using a digital travel pass, developed by the International Air Transport Association, that, among other things, provides airlines and governments with documentation that passengers have been vaccinated or tested for the coronavirus...
IBM has been developing its own 'digital health pass' to aid in providing proof of vaccination or a negative test for those seeking access to a sports stadium, an airplane, a university or workplace. The pass, built on IBM's blockchain technology, can use temperature checks, virus exposure notifications, test results and vaccine status. The World Economic Forum and the Commons Project Foundation, a Swiss nonprofit group, have been testing a digital health passport called CommonPass that would generate a QR code to show the authorities.
As more people are inoculated, it's likely that more aspects of public life will be limited to people who have been vaccinated. At the Super Bowl in Tampa, Fla., on Sunday, a significant portion of attendees will be vaccinated health care workers...
For international travel, government and health authorities will need to know if people have been vaccinated or have tested negative for the virus. Many countries are already requiring proof of a negative test for entry. Such passes could be essential to restarting the tourism industry, said Zurab Pololikashvili, secretary general of the World Tourism Organization, a United Nations agency...
'Parents with kids in public school have had to prove their kids have been vaccinated. This is not something new,' said Brian Behlendorf, executive director of Linux Foundation Public Health, an open-source, technology-focused organization helping public health authorities combat Covid-19 around the world.
'As these things get rolled out, it's important for citizens to ask governments and airlines: How do we make this easy so I have one vaccination record to book a flight, hotel and so I can use that to do some other things,' Mr. Behlendorf said. 'It should work like email. If it doesn't, agitate for it.'"
Sign up for our free e-mail list to see future vaticancatholic.com videos and articles.