Alexa.com is regarded as the foremost authority on website traffic activity. Most Holy Family Monastery holds the #1 ranking among all sites in the world in Alexa.com's "Not in Communion with Rome" section. Among all "Catholic sites" listed under their Catholicism section, we are currently in the #14 position (as of 10/28/19).
https://www.alexa.com/topsites/category/Top/Society/Religion_and_Spirituality/Christianity/Denominations/Catholicism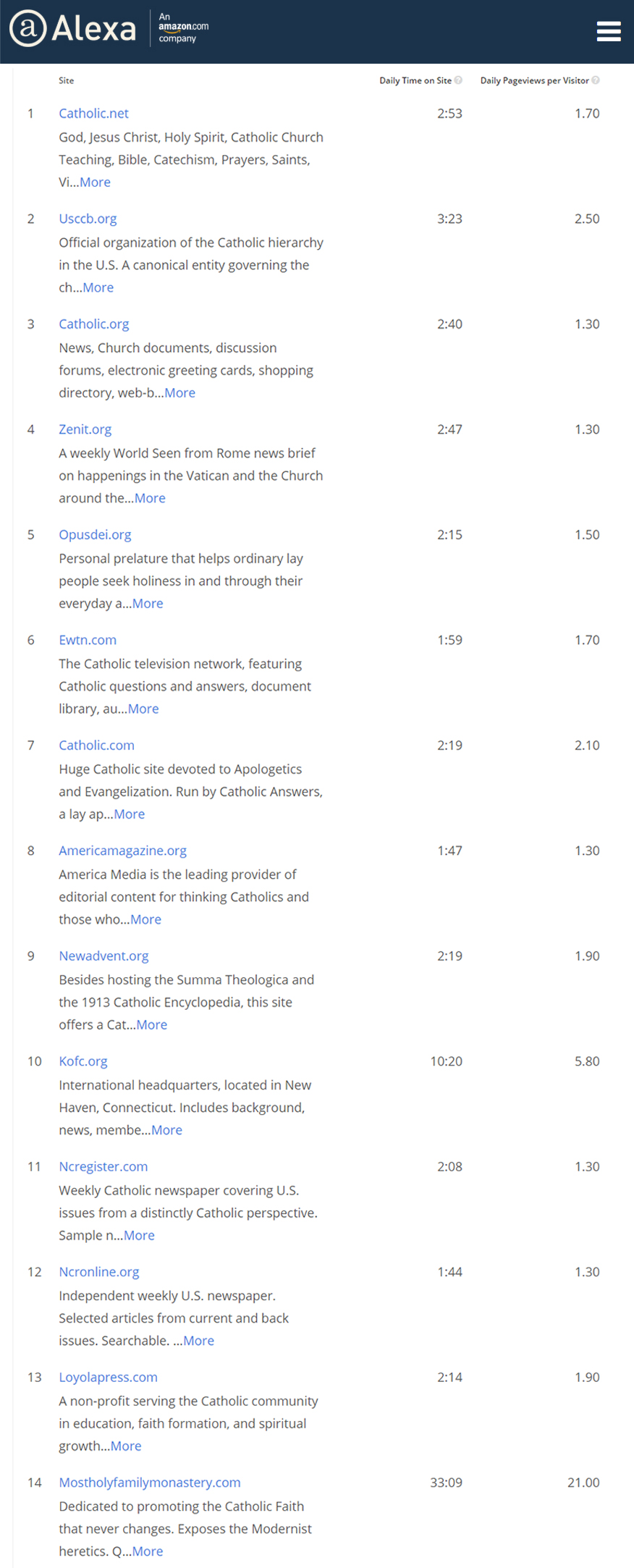 We are the highest-ranked traditional Catholic site on this list. Here is a comparison of our site's current ranking compared with some other popular "traditional Catholic sites" (as of 10/28/19). We are more than 225,000 spots higher than the "traditional Catholic" site onepeterfive.com. We are more than 474,000 spots higher than remnantnewspaper.com. We are more than 580,000 spots higher than the sspx.org. We are more than 802,000 spots higher than fatima.org. We are also more than 183,000 spots higher than the conservative news site trunews.com.
By the way, the other sites mentioned above, even though almost all of them purport to be Catholic, are not truly Catholic.
It should also be noted that while our YouTube channels in English and Spanish have the most total video views of any traditional Catholic channels in the world, we are being heavily censored. The number of subscribers (which previously increased at a fast pace) is now increasing at a very slow rate. Around a year ago we noticed that our videos stopped coming up frequently under recommended videos. We have also confirmed that many of our most-viewed videos have been eliminated from YouTube's auto-complete search results.
Many of our most-viewed videos also don't show up high even when you search for the exact name of the video, when they should come up at the top (or right near the top) for such a search. We have also noticed that our Twitter account (even though we have traditionally not done much with it) has strangely been stuck on 14.1 K followers for perhaps more than a year. Twitter also says we had zero new followers in September, but we know we got new followers in September. We believe we are being censored.
Sign up for our free e-mail list to see future vaticancatholic.com videos and articles.