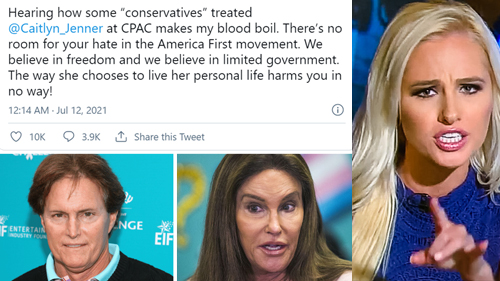 If you're opposed to "Caitlyn" Jenner for California Governor then there's "no room" for you or your "hate" in the America First movement, so says Fox Nation host Tomi Lahren.
Hearing how some "conservatives" treated @Caitlyn_Jenner at CPAC makes my blood boil. There's no room for your hate in the America First movement. We believe in freedom and we believe in limited government. The way she chooses to live her personal life harms you in no way!

— Tomi Lahren (@TomiLahren) July 12, 2021
BREAKING: Bruce Jenner Admits To Wearing 10 Year Old Daughter's Clothing pic.twitter.com/WITqu8V36X

— Chief America 1st Trumpster - AF Journalism (@ChiefTrumpster) July 12, 2021
"My loyalties lie with people like me"

-Jenner pic.twitter.com/QZ6epwlxGr

— Mr Vincent James (@elefent_james) July 10, 2021
Sign up for our free e-mail list to see future vaticancatholic.com videos and articles.