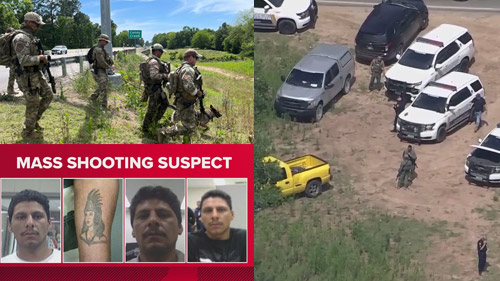 A three times deported Mexican national who allegedly shot and killed five of his neighbors, including a child, is being described by the media as a "Texas man".
The illegal immigrant is accused of gunning down five Honduran nationals on Friday night in Cleveland, Texas and is still on the run.
Francisco Oropesa's neighbors complained that him shooting his gun in the garden was keeping their baby awake. Oropesa responded by invading their home and killing them, including an 8-year-old child.
It is now being reported that Oropesa has been deported on three occasions, with his most recent removal being in 2016.
"San Jacinto County Sheriff Greg Capers told Breitbart Texas on Sunday that U.S. Immigration and Customs Enforcement officers deported 38-year-old Francisco Oropeza, a Mexican national now wanted for five alleged murders, in three separate incidents. Sheriff Capers and other sources advised that the last time ICE officers removed Oropeza was in 2016."
NEW: Per ICE source, Francisco Oropesa, the Mexican national who police who say fatally shot 5 of his neighbors in TX, is in the U.S. illegally. I'm told he's been previously deported, has "multiple" illegal re-entries on his record, and was last encountered by ICE in 2016... pic.twitter.com/JX40Pj0mc7

— Bill Melugin (@BillFOXLA) April 30, 2023
Despite there being numerous mugshots showing Oropesa, the media appears to be unwilling to use them and keeps referring to him as a "Texas man".
Sign up for our free e-mail list to see future vaticancatholic.com videos and articles.