mybudget360.com
April 8, 2020
The unemployment report today was widely acknowledged as being incorrect even by the mainstream media when "only" 700,000 jobs were reported lost last month. We already have data that approximately 10 million people have filed for unemployment benefits in the last couple of weeks. This upcoming recession, the Novel Recession, is largely one that is being brought on by a global shutdown to prevent the spread of the COVID-19 outbreak. Yet the speed in which this recession is coming just goes to show how fragile our economy really was and how many Americans were already living on the financial edge...
It cannot be overstated how fast the unemployment figures are growing and we are only a couple of weeks into the shutdown. The BLS report that came out today is lagging in a big way what is happening on the ground. Already at the very least 10 million people have lost their jobs: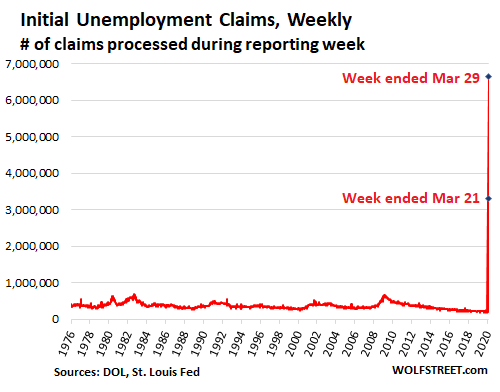 Last week, initial unemployment claims came in above 2 million. This week they came in close to 7 million for nearly a total of 10 million filings within a couple of weeks. Yet this does not tell the entire story. We know from countless news stories that unemployment benefits websites across many states are being slammed and many people are giving up filing since they cannot get through. So the figures are actually worse than they appear and next week they will be worse as more people get through to file.
Why do we suspect this will be worse than the Great Depression in terms of unemployment figures? The Great Depression at its peak had a 24.9 percent unemployment rate. We are going to get there if we stay at this rate within a couple of months...
To get to the peak of the Great Depression level of unemployment we would need to hit 36.3 million workers out of a job. The country already has 10 million filing for unemployment benefits within two weeks. At this rate, come June or July we are going to see high teens and into the 20s in terms of the unemployment percentage.
What is troubling is that half of the country was already living paycheck to paycheck before this coronavirus hit.
Sign up for our free e-mail list to see future vaticancatholic.com videos and articles.