The Path To Take
Good Afternoon,
I have been watching your content for a while and it has been quite eye opening. I have recently been trying to learn more about the catholic faith and have decided that it is most likely the right path to take. I was brought up "Catholic" however was not properly catechized. I would not say my life and my actions are any different from "worldly people up to and including today. 
The information you have presented regarding Vatican ll was very informative as well as some of your other material on your website. I plan on looking deeper into the resources available. My question is are all sins able to be forgiven? even the ones that cry out to heaven? This has weighed heavily on my mind and would very much appreciate a response. Thank you for your time
R
We're glad you are looking at the material.  It's crucial that you become convinced on all the issues.  The steps to convert to true Catholicism are here.  This is a catechism.  This is also an important file to read: Glossary of Terms and Principles.  When you are convinced on all the issues, we can help you further.  All of your sins can be forgiven, if you have the true faith and make a good confession.
These are also important videos for a foundational understanding of the Church's necessity for salvation: No Baptism, No Salvation - Leo the Great St. Robert Bellarmine On "Invincible Ignorance" How Is One Saved "By The Name Of Jesus Christ"? (Acts 4:12)
It's also important that you pray the Rosary each day and the Hail Mary frequently.  That will give you powerful graces to see the truth and do God's will.  How to pray the Rosary is on our website.  (We recommend that Catholics, if they can, pray 15 decades of the Rosary each day and the Hail Mary frequently.)
New Video Posted
How Is One Saved "By The Name Of Jesus Christ"? (Acts 4:12)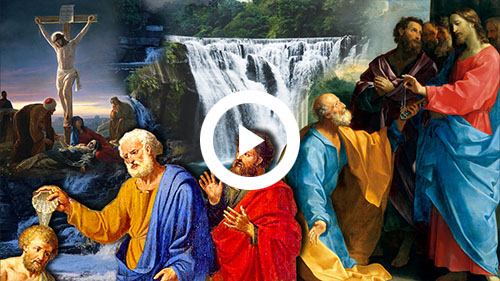 Comment
Mortician makes shocking discovery of rubber-band like objects inside the "vaccinated"

Wow... MSM has misled us—they're not blood clots. They are fibrous tissues that block blood vessels...!

Rita E
Grave Sin
Young Americans Show How Little Common Knowledge They Have! - 1 minute video

When people are in grave sin they lose all grace and knowledge from God and become mindless idolaters of the flesh.

Aidan
Sign up for our free e-mail list to see future vaticancatholic.com videos and articles.