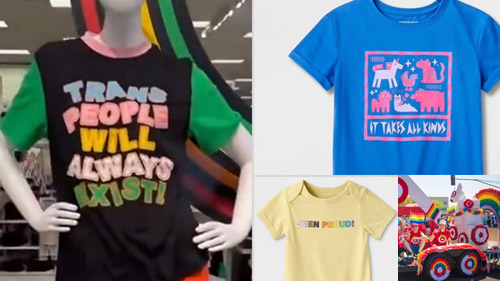 "Adults seeking to groom children into the LGBT lifestyle just got a helping hand from Target, the Minnesota-based retailer that 10 years ago became one of the first corporations to embrace the woke agenda.
The superstore recently introduced a line of rainbow-themed clothing for teenagers and babies ahead of so-called Pride Month, which the company has celebrated every June since 2013. Among the most controversial items listed on the company's website is a onesie designed for an infant.
Target first caved to the gay agenda after pop star Lady Gaga ended her deal with them in 2011 after learning they donated money to a candidate for Minnesota governor who opposed 'gay marriage.' Just one year later, the company made a donation to the pro-gay Family Equality Council. In 2016, they adopted gender-neutral bathrooms after first allowing men to use women's bathrooms.
he new clothing line gives customers a chance to purchase items such as a rainbow tutu, a t-shirt that says, 'It Takes All Kinds,' a hooded sweatshirt that reads 'Not a Phase,' and a baby outfit that has the words '¡Bien Proud!' embroidered on it.
Bibs that say, 'I Am Proud Of You Always,' socks with LGBT propaganda on them, and miscellaneous pro-gay books and pet items are also for sale. Many of the models that appear on the company's website seem to be homosexual..."
Sign up for our free e-mail list to see future vaticancatholic.com videos and articles.