yahoo.com
February 10, 2020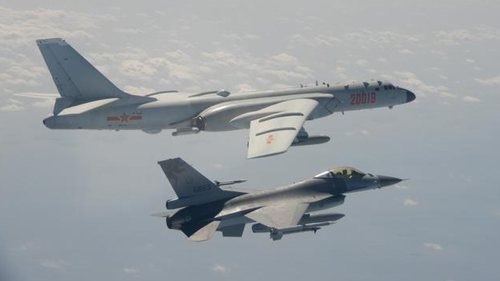 Taiwan's air force scrambled for a second day in a row on Monday to intercept Chinese jets that approached the island claimed by Beijing as its own, as tensions between the two took on a potentially dangerous military dimension.
Taiwan's Defence Ministry said Chinese jets, accompanying H-6 bombers, briefly crossed an unofficial mid-line in the Taiwan Strait that separates the two, prompting its air force to rush to intercept and give verbal warnings to leave.
The Chinese aircraft then withdrew to the western side of the line, the ministry added, without identifying the jets...
According to Taiwan's official Central News Agency, the F-16s scrambled on Sunday carried live missiles...
There was no immediate comment from China on Monday's incident. This is only the second time since 2016 that Taiwan has said that Chinese jets had crossed the strait's median line. Their military aircraft tend to keep to their own sides.
China's Taiwan Affairs Office, though, urged Taiwan's ruling Democratic Progressive Party (DPP) "not to play with fire".
The DPP have been "adopting a stance that increases cross-strait confrontation, intensifying new moves for Taiwan-U.S. collusion, using the opportunity to seek independence and openly carrying out dangerous provocations", it added.
China's Eastern Theatre Command described Sunday's fly-by of military's combat ready patrol as a "completely legitimate and necessary action aimed at the current situation in the Taiwan Strait and safeguarding national sovereignty".
Sign up for our free e-mail list to see future vaticancatholic.com videos and articles.