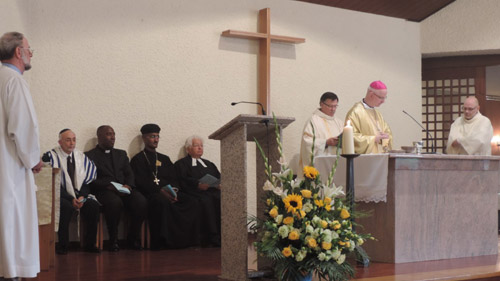 "A Swiss priest was civilly married on his deathbed last April, shortly before being plunged into an artificial coma by way of palliative care, putting an end to 30 years of silence about his ongoing relationship with a former nun.
Although he opened up about the situation to his bishop, Charles Morerod of Lausanne, about a month before he died, 'Father C' received a full Catholic funeral with the honors due a priest. His chalice and paten were placed on his coffin as if the situation were completely normal, and Bishop Morerod even spoke openly during his farewell homily about the priest's partner.
He called her 'the faithful friend of his heart, for 30 years.' 'I am grateful to him for his ministry. At the end, he confided to me that being a priest had been the most beautiful mission in the world.'
The Swiss official Catholic website cath.ch reported on the case, presenting it as the legitimization of '30 years of love that never affected (the priest's) accomplishment of his ministry.'
The news website also made abundantly clear that Bishop Morerod concelebrated the funeral with 'full knowledge' of the case.
The story went public on May 9, when 'Father C's widow gave an interview to the national press. She told Le Matin Dimanche about the relationship that had been kept secret for so long, although it was apparently an open secret for many...
According to Le Matin Dimanche, the Pope himself has been informed of the circumstances of Father C's civil marriage and death and 'is praying for him.'
After the funeral, Bishop Morerod sent the following statement to all the 'pastoral agents' of the diocese of Lausanne:
I would like again to express my gratitude to this priest for his ministry, which was very well expressed at his funeral...
Father C was at the head of one of the biggest pastoral units in Switzerland.
The now-'widow' had met Father C 30 years ago. He was a deacon, having entered the seminary quite late, leaving behind his professional experience and an intense love life. At the time, 'Claire' — as the journalist called her — was a nun in a French convent. The deacon was on his way to Santiago de Compostela. The future priest's 'quest for the absolute' immediately struck her. They talked about love at first sight.
The young woman says that she heard a voice — which she believes to be that of Christ — in her mind saying, 'Today, I am giving you a very big present.'
The faithful did realize the truth of the relationship. 'One of us had met them hand in hand in France. Many knew about it, but few were offended."
Sign up for our free e-mail list to see future vaticancatholic.com videos and articles.