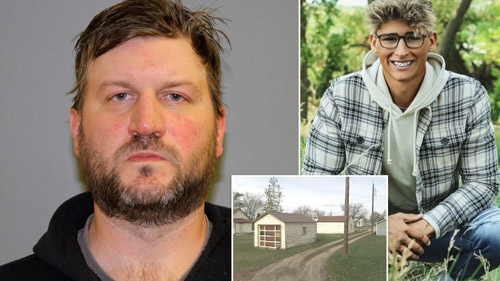 "The man who allegedly fatally hit 18-year-old Cayler Ellingson with an SUV after calling him a 'Republican extremist' is no longer in custody after posting a $50,000 bond and is not being subject to house arrest or a curfew, according to documents reviewed by Fox News.
Forty-one-year-old Shannon Brandt was released from jail September 20 after posting the bond, the outlet reported.
Brandt admitted to hitting Ellingson with his car at 2:35 a.m. in McHenry, N.D., after the two had a 'political argument.' Ellingson allegedly went to call his mom after the argument, but Brandt thought he was calling for people to come 'get him.'
Brandt had initially fled the scene, but then reported the incident to the police himself, saying he hit Ellingson because he thought he was part of a 'Republican extremist group.' Police said he was intoxicated at the time of the incident.
Ellingson suffered serious injuries and later died at the hospital.
Brandt was charged with vehicular homicide and leaving the scene of a fatal accident...
The Biden administration has repeatedly called MAGA Republicans 'extremists,' saying they are a 'threat to democracy.'
'The way that he sees it, is the MAGA [Make American Great Again] Republicans are the most energized part of the Republican Party. This is an extreme threat to our democracy, to our freedom, to our rights,' White House press secretary Karine Jean-Pierre said in an August press briefing.
Jean-Pierre then said MAGA Republicans 'just don't respect the rule of law' and 'are pursuing an agenda that takes away people's rights.'"
Sign up for our free e-mail list to see future vaticancatholic.com videos and articles.