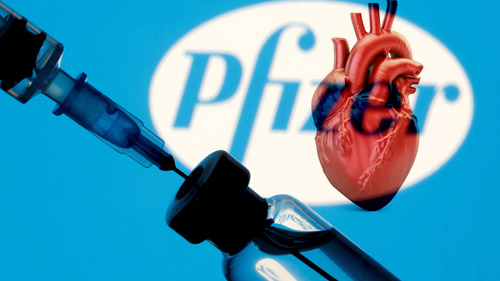 "Pfizer's COVID-19 shot is associated with a 133-times greater risk of heart inflammation for teenage boys, according to a new study in the Journal of the American Medical Association (JAMA).
The study, published last month by researchers with the U.S. Centers for Disease Control and Prevention (CDC), found that myocarditis skyrocketed in men between 12 to 24 years old after both Pfizer's and Moderna's mRNA COVID jabs, Israel National News reported.
Myocarditis is a type of heart inflammation that has repeatedly been linked to COVID vaccines. The study authors noted that the condition can be serious and can lead to heart failure and death.
The researchers said that 'the risk of myocarditis after receiving mRNA-based COVID-19 vaccines was increased across multiple age and sex strata,' but that the disease particularly impacts young men. Eighty-two percent of myocarditis cases examined in the study were in males, and the median age of patients was 21. The vast majority of cases – 82 percent – followed a second shot.
The risk was highest after Pfizer vaccination. Boys between 12 and 15 years old had a myocarditis rate of 70.7 cases of per million Pfizer doses – 133 times higher than the background rate of .53 per million, according to the study. For young men ages 16 to 17, the rate was 106 cases per million doses, a 79-times increase from the baseline risk of 1.34 cases per million doses...
The myocarditis cases are most likely underestimated, the CDC study emphasized. VAERS is a passive surveillance system, and research shows that it significantly undercounts vaccine injuries...
The COVID vaccines have been linked to various other serious side effects, like the immune disorder Guillain Barré Syndrome and blood clots."
Sign up for our free e-mail list to see future vaticancatholic.com videos and articles.