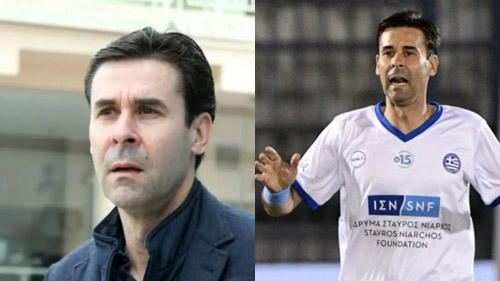 One of the most legendary soccer players of his time received a jail sentence and a fine for posting "transphobic" social media messages citing the Bible's creation account.
"God created Adam and Eve," wrote retired Greek football legend Vassilis Tsiartas in the second of two Facebook posts opposing a 2017 law that would have lowered the age to legally change one's gender to 15 and removed other legal barriers...
Tsiartas received a 10-month suspended prison sentence and a suspended fine of 5,000 euros from the Single-Member Misdemeanor Court of Athens. The Transgender Support Association, which brought the lawsuit, called punishing his biblical views "particularly important for the transgender community." Tsiartas plans to appeal the decision.
The ruling marks at least the second time a European court has ruled that biblical values violate the human rights of transgender individuals.
In 2019, a British court ruled that "belief in Genesis 1:27, lack of belief in transgenderism, and conscientious objection to transgenderism in our judgment are incompatible with human dignity and conflict with the fundamental rights of others." Genesis 1:27, often cited as the cornerstone of human rights, states: "So God created mankind in his own image, in the image of God he created them; male and female he created them."
"This I understand to be legalese meaning that my belief in God and the dishonesty of using transgender pronouns is akin to Nazism," wrote Dr. David Mackereth, a Reformed Baptist physician who was fired from his job with the U.K.'s Department for Work and Pensions in 2018 for theoretically declining to refer to "any six-foot tall, bearded man" as "madam."
"The teaching of Genesis 1:27 is repeated throughout the Bible, including by Jesus Christ himself," said Andrea Williams, chief executive of the Christian Legal Centre, which represented Mackereth. "It is fundamental to establishing the dignity of every human person but is, in a bizarre ironic twist, being branded as incompatible with that dignity."
On June 29, the Employment Appeal Tribunal ruled that the lower court had erred in saying that Mackereth's "belief in Genesis 1:27 did not amount to a protected characteristic" covered by the freedom of religion secured by the U.K.'s 2010 Equality Act. It also took aim at the lower court's contention that Mackereth's views were "likely to cause offence" to others. "The fact that a belief is likely to cause offence cannot, however, mean that it is automatically excluded from protection," ruled the tribunal.
But the tribunal ruled that Mackereth's actions stemmed from his "belief in Genesis 1:27, not the present state of information available" on transgenderism. Ultimately, the tribunal let his termination stand, saying that Christians have the right to practice their faith, but only if it does not conflict with the "rights" of others, such as LGBTQ provisions.
Sign up for our free e-mail list to see future vaticancatholic.com videos and articles.